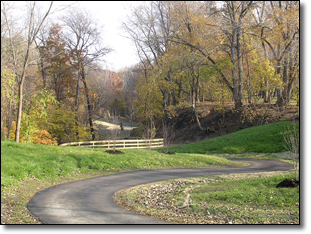 The trail descends into the valley from Harmody Park.
Treadway Creek Trail, in the Old Brooklyn neighborhood, was built in 2007 as part of an environmental restoration effort in one of Cleveland's last, unfilled ravines.
This trail also represents one of the first trunk trails that will connect with the Ohio and Erie Canal Towpath Trail.
The Treadway Creek Trail is a paved, multi-use path along it's entire length
Old Brooklyn Community Developmnet Corporation Website.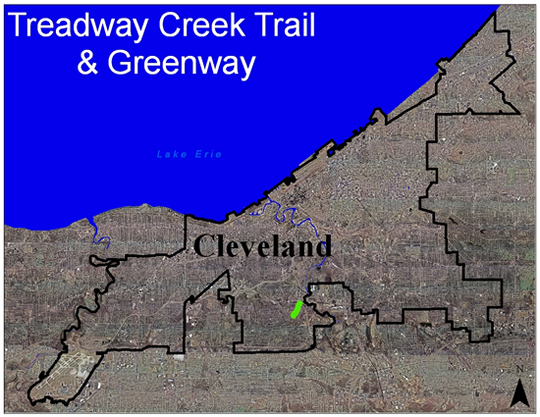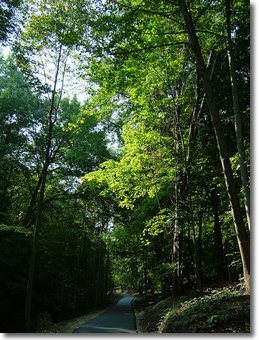 The ravine is one of the larger areas of tree
cover in the City.
Location/Ward: Plymouth Road and South Hills Boulevard, Ward 15
Acreage: 21.12 acres (including Harmody Park)
Project Description: The Department of Parks restored and preserved 21 acres of prime riparian corridor, wooded ravine and open space through land acquisition and placement of a conservation easement. In addition a 2/3-mile asphalt paved, all-purpose trail linking Harmody Park with the Ohio & Erie Canal Towpath Trail was constructed—thereby creating public access from the surrounding neighborhoods into this natural ravine and to the Towpath Trail. The trail included retaining walls of varying heights planted with native plants, interpretive, way finding and educational signage, scenic lookout areas, custom benches, and hand crafted timber railings. Restoration elements included erosion and water quality improvements, native plant installation, invasive plant removal, and a native grass seed mix and native woodland wildflowers.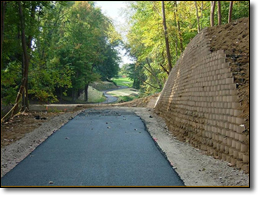 After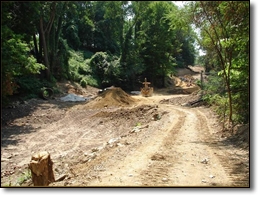 Before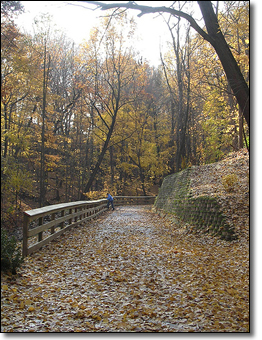 Improvements include retaining walls sown with
native plants.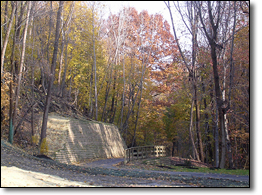 At one time the ravine had been proposed to
be filled.
Prime Consultant:
Schmidt Copeland Parker Stevens
Subconsultant:
Floyd Browne Group
Project Manager:
Division of Research, Planning & Development
Mark C. Fallon, Commissioner
Donald A. Kasych, Senior Landscape Architect
Cost:
$1,342,265
Fund Source:
$745,316 Clean Ohio Conservation Fund grant
$498,000 G.O. Bond Proceeds
$40,000 CMHA land donation value
$10,000 Ohio & Erie Canal Association grant to OBCDC
$273,850 value of in-kind service and property
$285,000 Ward 15 G.O. Allocation ($5k Ward 16)