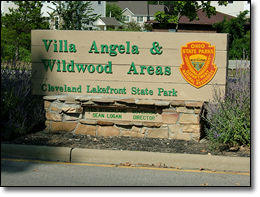 The mouth of Euclid Creek flows through
the Cleveland Lakefront State Park.

The purpose of this study, which was completed in 2007, was to assess the feasibility of a greenway along the Lower Euclid Creek, including trail and riparian restoration opportunities. Among the opportunities associated with the project is the ability to connect the Cleveland Metroparks' Euclid Creek Reservation and trail with the Cleveland Lakefront Trail at Wildwood State Park on the lakefront through the City's Collinwood neighborhood.

The largest physical obstacles to planning feasible trail routes are:

underpasses at two major east/west rail lines,

lack of a trail easement along the concrete channel west of Marcella Road.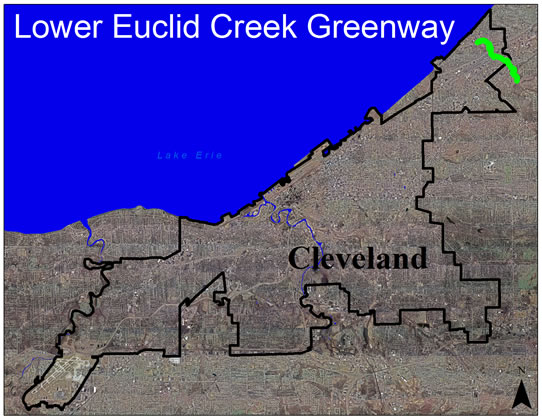 The trail route proposed in the study follows Euclid Creek as much as possible, for 65% of its length. The trail turns away from the creek at St. Clair Avenue to utilize the Neff Road railroad and freeway underpasses, considered a safer alternative than the Nottingham Road underpasses due to lower traffic volume, fewer freeway ramps, and fewer driveways. The remaining 35% of the trail route is proposed as a combination of bike lanes (along Neff and Villaview Roads and East 185th Street), and bike routes (route signs but no bike lanes) on Marcella Road.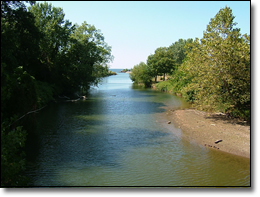 The mouth of Euclid Creek at Lake Erie.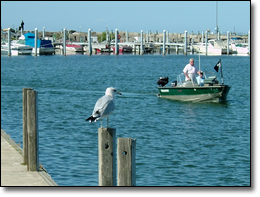 The State Park has boating facilities.
The entire study can be accessed here (link to pdf)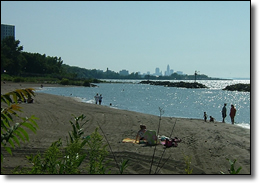 The beach at Euclid Creek provides views
of the Downtown skyline.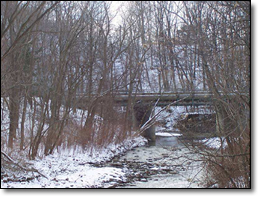 Proposed trail underpass at Highland Road