OPPORTUNITY CORRIDOR DEVELOPMENT ZONES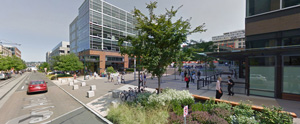 Amazon Headquarters - Seattle, WA
Re-use of existing building with a new building addition in a walkable environment.
Introduction
Over the past decade the City of Cleveland, Community Development Corporations, and Partners have invested significant time, energy and resources in planning and other activities in arguably one of the most challenged areas in the City of Cleveland.
The vicinity of the proposed Opportunity Corridor contains the largest concentration of vacant land in the City of Cleveland. Although the area is flanked by tremendous assets and various investments in infrastructure, housing, and retail, the area remains in need of continued investment in physical development, human capital development, and economic opportunities. The City of Cleveland has focused its efforts on addressing adverse conditions with Development Corporations and others in the neighborhoods flanking Opportunity Corridor area.
The vision for these areas have been expressed in several planning initiatives targeted within each neighborhood. These efforts include the various possibilities of development scenarios by many stakeholders with the emphasis on existing resident interest. The areas below (interactive map) have been identified as key strategic target zones that will provide High Tech, Low Tech, and No Tech opportunities for existing and future residents within the Opportunity Corridor Area. This will create a pipeline of economic opportunity that will create a pipeline for residents to grow in employment status and housing options.
These zones will introduce employment, retail, housing, transportation, and entrepreneur opportunity to the area. In addition new tools and strategies will need to be employed in these zones to ensure their success.