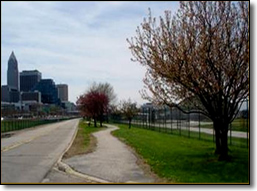 Along Burke Lakefront Airport east of
Downtown
The Cleveland Lakefront Bikeway spans the entire length of Cleveland's 17-mile Lake Erie shoreline from the City's eastern border with Euclid and it's western border with Lakewood. This bikeway links Cleveland's cultural centers and medical hubs at University Circle with Downtown and the North Coast Harbor via the Harrison Dillard Bikeway through Rockefeller Park.
The Lakefront Bikeway consists of both off-road paths and on-street, signed routes.
This bikeway provides cyclists access to some of Cleveland's best architecture as it passes through traditional neighborhoods such as Collinwood to suburban Bratenahl, before reaching Downtown and then onward through Ohio City before reaching the scenic beauty Edgewater State Park and the stately old homes along Edgewater Drive.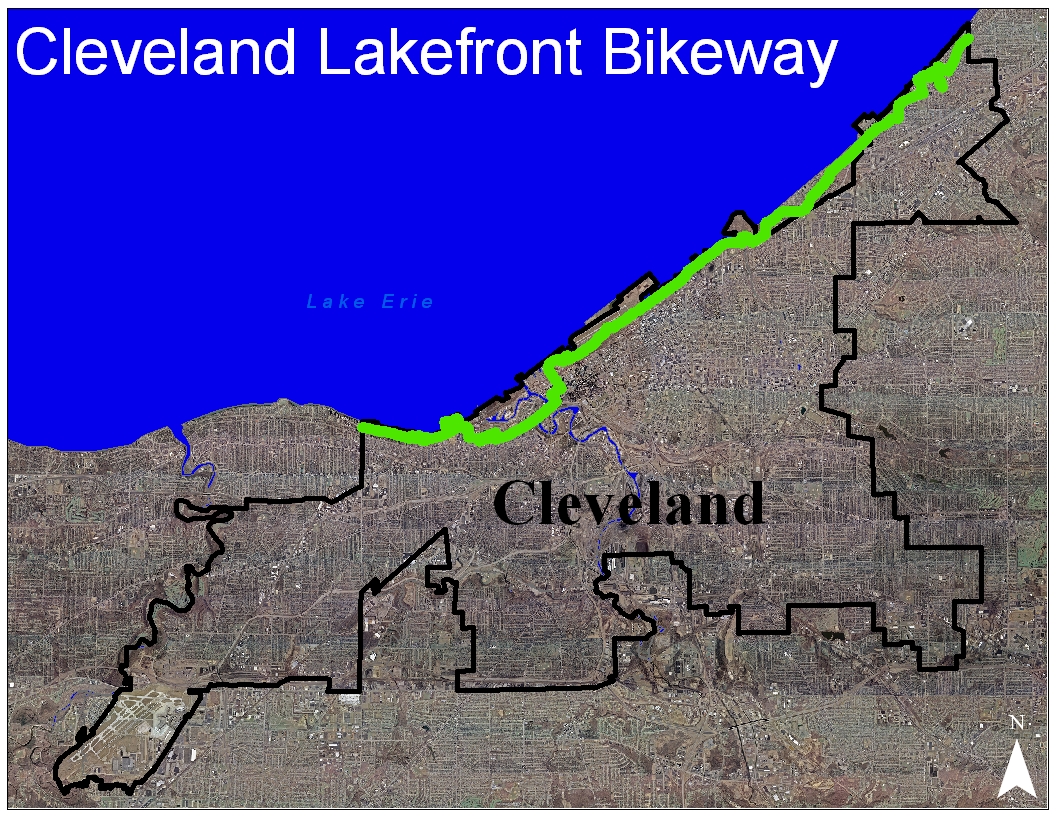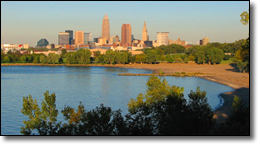 Downtown Cleveland from Edgewater Park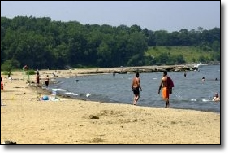 The beach at Edgewater Park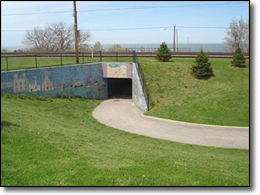 W. 65th underpass connection between
Edgewater Park and the Detroit-Shoreway
neighborhood

The vision for a Lakefront Bikeway began to develop over 25 years ago. In the last ten years, it has been made into reality. The Eastern portion of the Lakefront Bikeway from E 9th St Downtown to the Cleveland-Euclid border was completed in 1998 at a cost of $1,992,000. The Western portion from E 9th St to the Cleveland-Lakewood border was completed in 2003 at a cost of $623,427.

Directions: Westbound from Euclid to Lakewood —
Starting on Lake Shore Blvd at the Cleveland-Euclid border, travel southwest on Lake Shore Blvd. (0.75 miles)
Turn right onto Neff Rd and travel northwest on Neff Rd. (0.2 miles)
Turn left onto off-road trail. You will cross a bridge over Euclid Creek. Follow the off-road trail to your right after the bridge. Follow the off-road trail to Euclid Beach Trail and follow Euclid Beach Trail until you reach Lake Shore Blvd. Turn right on Lake Shore Blvd. (0.8 miles)

Lakefront Bikeway route marker

Detroit-Shoreway neighborhood at W 65th
underpass

Follow Lake Shore Blvd to the Cleveland-Bratenahl border and through Bratenahl. You will leave Bratenahl and re-enter Cleveland just before Martin Luther King Dr. (4.5 miles)
If you head south on MLK, you will be turning onto the Harrison-Dillard Bikeway towards University Circle. To continue on the Lakefront Bikeway, take the off-road trail running along the lake.
Take the off-road trail until it ends at E 55th St. Continue following the lakefront along North Marginal Rd to E 9th St. (4.4 miles)
Turn right at E 9th St and continue following the lakefront around the Rock & Roll Hall of Fame and Cleveland Browns Stadium. When you have passed Cleveland Browns Stadium, turn left onto W 3rd St and head south to St. Clair Ave. (1.06 miles)
Turn Right onto St. Clair Ave. Follow St. Clair for a short distance and turn left onto W 9th St. Take W 9th St a short distance and turn right onto Superior Ave. Follow Superior Ave across the Cuyahoga River on the Detroit-Superior Bridge and continue forward on Detroit Ave when you reach the end of the bridge. (0.8 miles)
Follow Detroit Ave until you reach W 49th St and turn right onto W 49th. Take W 49th a short distance to Herman Ave and turn left onto Herman. Take Herman Ave a short distance and turn right onto W 65th. Follow W 65th north until it ends at the off-road trail leading into Edgewater State Park. (1.75 miles)
Follow the off-road trail through Edgewater State Park until you reach Edgewater Drive and leave the park. Follow Edgewater Dr to the Cleveland-Lakewood Border. (2.5 miles)