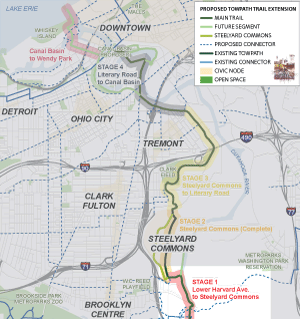 Towpath Trail Stage 1 - click to enlarge
Towpath Trail: Stage 1
Estimated Completion Date: 2020
Stage 1 of the Towpath Trail Extension will connect the current northern terminus of the Towpath in the Cleveland Metroparks Ohio and Erie Canal Reservation to the already constructed Stage 2 through Steelyard Commons.
Despite its relatively short length of 0.7 miles, Stage 1 will be one of the most technologically challenging sections of the Towpath Trail.
The Towpath Trail Management Team will determine the preferred route based on which alternative provides the best mix of viability and user experience.
Link to Canalway Partners Stage 1 site: http://canalwaypartners.com/towpath-trail/stage-1/