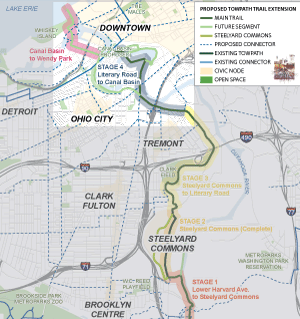 Towpath Trail Stage 4 - click to enlarge
Towpath Trail: Stage 4
Estimated Completion Date: 2019
Stage 4 of the Towpath Trail Extension will run from Literary Ave. in the south to the northern terminus of the Towpath at Canal Basin Park.
Sections of Stage 4 are being completed by the Ohio Department of Transportation as part of the Cleveland Innerbelt Modernization Project.
This stage of the Towpath Trail will provide dramatic views of the Cleveland skyline and the Cuyahoga River Valley. Stage 4 of the Towpath Trail Extension will provide important connections to Cleveland's trail network.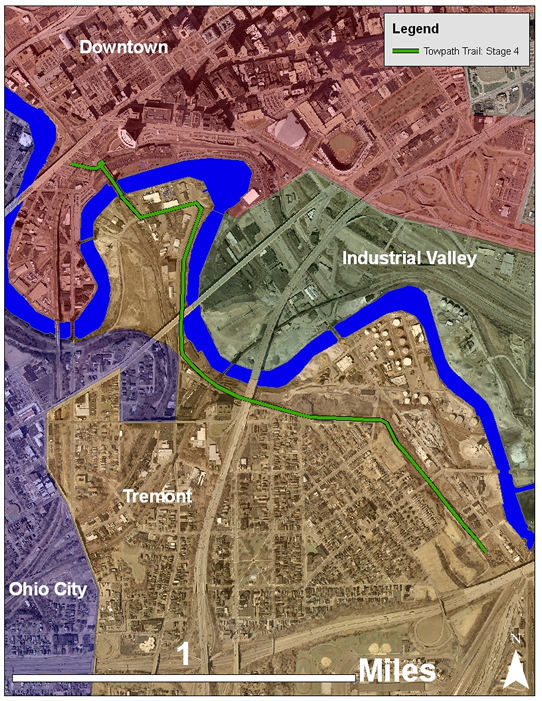 A section of Stage 4, Scranton Flats, opened to the public in 2014. Scranton Flats restored 2,800 feet of natural shoreline, created a two-acre fish habitat and provided the first publicly funded section of the Ohio & Erie Canal Towpath Trail in Cleveland.
Canal Basin Park is being developed in tandem with the completion of the trail. Canal Basin Park will serve as the Downtown Cleveland's gateway to the Ohio & Erie Canalway National Heritage Area.
Links:
The Cleveland Innerbelt Modernization Plan site: http://www.dot.state.oh.us/projects/ClevelandUrbanCoreProjects
/Innerbelt/Pages/default.aspx
Canalway Partners Stage 4 site: http://canalwaypartners.com/towpath-trail/stage-4/
Canalway Partners Scranton Flats site: http://canalwaypartners.com/towpath-trail/scranton-flats/