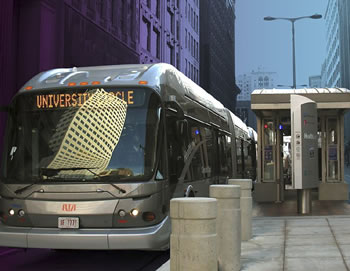 Project Overview
RTA has initiated a study to enhance transit service in the northeast section of RTA's service area. This study, called RTA's Red Line HealthLine Extension Study, will identify transportation opportunities that may support and sustain future growth and economic redevelopment in East Cleveland, Euclid, Collinwood, and adjacent communities.
The study will do this by collaborating and building consensus around successful transit service improvement strategies. The outcomes will guide RTA's investments for years to come.
The project has four goals:
Provide greater service frequency and improved access to high-quality transit,
Improve connectivity to University Circle and Midtown institutions from Euclid,
Define an optimal plan for improved bus and rail transit networks to meet the growing demand for transit service in this area, and
Foster redevelopment in the northeast section of RTA's service area
RTA's network of services that serve this travel market area, which includes the Red Line rail and the HealthLine bus rapid transit lines, is a unique asset that cannot be matched in other parts of the region. Cleveland is one of only a few American cities where the downtown area is linked to neighborhoods, other regional employment centers and the airport by a rail and bus rapid transit system. Additional public transportation investment can improve urban character and form by reconnecting neighborhoods and communities in Collinwood, East Cleveland and Euclid with quick and reliable transit services to Downtown Cleveland and University Circle — Ohio's two largest business districts.
A map of the Study Area is below: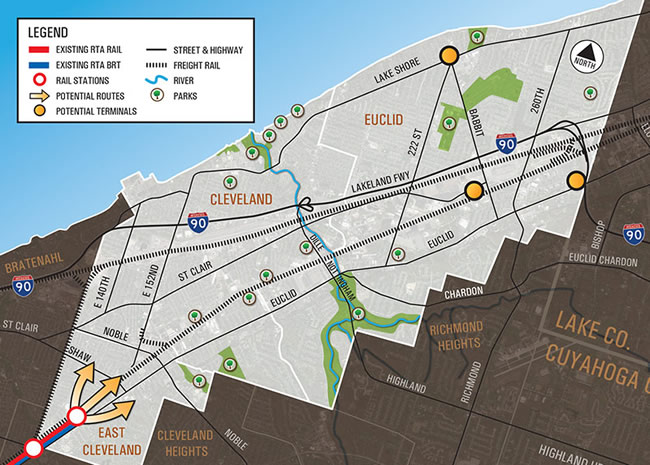 For this reason, RTA is investigating the feasibility of extending either the Red Line rail or HealthLine bus rapid transit lines east from Louis Stokes Station at Windermere. Potential route alignments could include links from Windermere to Lakeshore Boulevard, St. Clair Avenue or continue east along the Euclid Avenue corridor to the City of Euclid and adjacent communities in Lake County. The proposed Red Line/HealthLine extension could restructure service on Greater Cleveland's northeast side by improving access to University Circle, Midtown and Downtown Cleveland and by reducing travel time and cost from the furthest reaches of RTA's eastern service area. By providing additional mobility options and improving access to the region's core throughout the day, redevelopment opportunities will be increased in this part of the RTA service area resulting in substantial economic benefits, which improves regional competitiveness.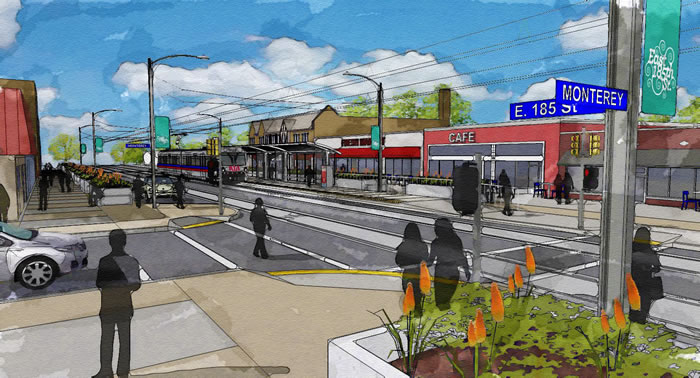 Illustrative View, Rapid+ Station and Streetscape at East 185th & Landseer
The study area includes the northeast portion of Cuyahoga County bounded by Lake Erie on the north and Lake County on the east and contains portions of three cities: Cleveland, East Cleveland, and Euclid. Specifically, the study area and corridor for the Red Line/HealthLine extension major transportation improvement analysis approximately starts at the CSX Short Line right-of-way in the west (and adjacent former Cleveland Union Terminal railroad) and extends east along the southern boundary, which is the ridge line separating the lake plain from the heights area of Cleveland.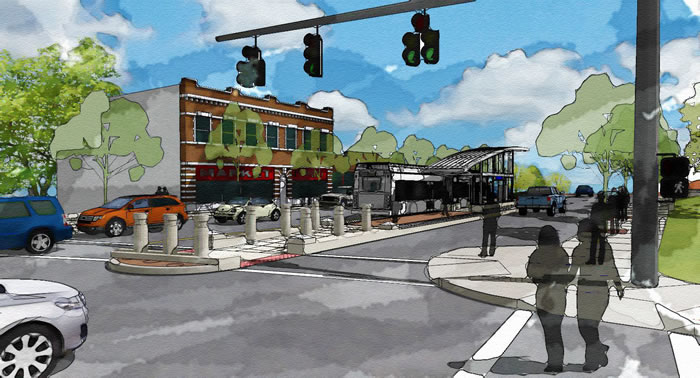 Illustrative View, BRT Station and Streetscape at Euclid and Noble
The planning process will integrate urban design, community form, and economic development considerations with the required transportation planning and engineering analyses required by federal regulations. The study may result in new investment decisions in the service area, to help achieve sustainability goals and improve the quality of life for the residents who live in the study area. Transit is a key piece of the livability puzzle and the funding prioritization process.
**All info courtesy of www.redlinehealthlinestudy.com**