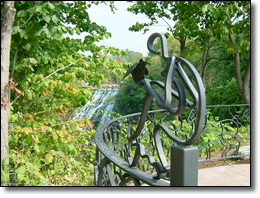 Iron rail work at the Mill Creek Falls emphasizes
nature in the City.
The trail in Cleveland Metroparks' Garfield Park Reservation runs from the Mill Creek Waterfall at the intersection of Warner and Miles in the City of Cleveland upstream and south to Edgepark Drive in the City of Garfield Heights. It includes a two-mile loop within the main part of the reservation and the 1.2 mile spur that connects to the waterfall.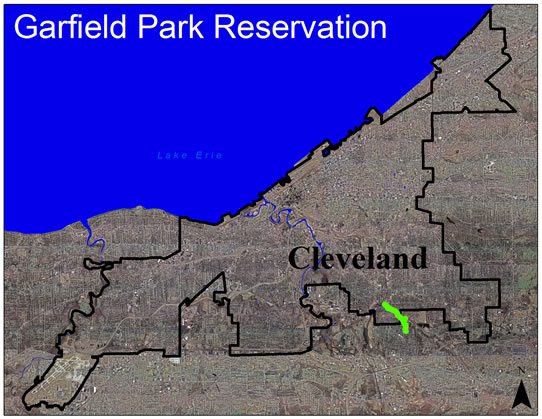 Located at the waterfall is the Mill Creek Falls History Center. It houses the Slavic Village Historical Society and hosts displays that tell the history of the Broadway-Slavic Village neighborhood of Cleveland and the original Village of Newburg. It commemorates the lives of the Broadway-Slavic Village area's many immigrant families over the last century. The Center is located at 8404 Webb Terrace.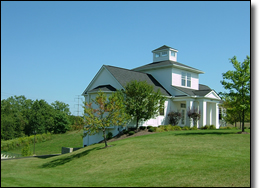 Mill Creek Community Center near the trail.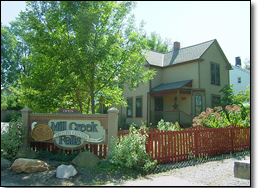 Mill Creek Park History Center at the waterfall.
Downstream from the waterfall the Cleveland Metroparks is also planning and developing a trail link along the Mill Creek which will eventually connect the Towpath Trail and Bacci Park at the mouth of the creek in Cuyahoga Heights with the Mill Creek Waterfall.

Pavement inscription identifying the trail.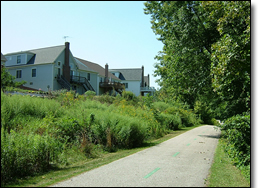 Houses along the trail.