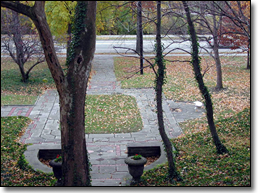 Cleveland's Cultural Gardens provide a
picturesque backdrop for the Harrison
Dillard Trail.
The Harrison-Dillard Bikeway runs parallel to MLK Drive for 3.74 miles through Cleveland's Cultural Gardens in Rockefeller Park. The backdrop of Rockefeller Park makes this one of the most scenic urban trails in the country. The cultural Gardens were established in 1925 and currently contain 26 distinct gardens celebrating Cleveland's multi-hued ethnic heritage.
This bikeway is made entirely of paved, off-road trails.
Harrison-Dillard links the Cleveland Lakefront Bikeway to the north with University Circle and Case Western Reserve University to the south.
Rockefeller Park is a 270-acre linear park which follows the meandering course of the Doan Brook for a distance of about 7 miles.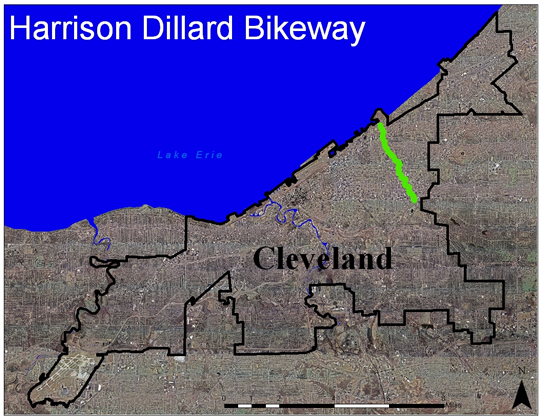 Cleveland's Cultural Gardens running through Rockefeller Park are one of the city's most outstanding urban amenities. Landscaped gardens celebrate Cleveland's diverse cultural heritage.
2006 saw the opening of the Indian Cultural Garden. The Azerbaijani, Latvian and Serbian cultural gardens were dedicated in 2008. One of the best ways to see this unique attraction is by bicycle.
Rockefeller Park and the Cultural Gardens are particularly scenic during the spring and fall.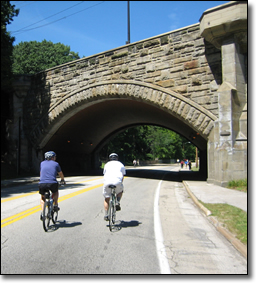 MLK Drive is closed for pedestrians and
cyclists as part of the City's annual
Walk-n-Roll event.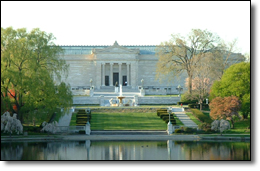 The trail passes near many of the cultural institutions at University Circle such as the Cleveland Museum of Art.
The Harrison-Dillard Bikeway was completed in 1997 at a cost of $660,000.