In plotting a course for future economic development in Cleveland, it is important to appreciate where we have been—and how we got there—as well as the changes that have occurred over the past half-century in the nature of the marketplace and the way business is done: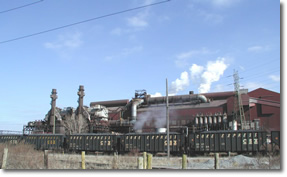 Although many steel industry jobs have returned to Cleveland, advanced-technology steel production no longer requires the large workforce of the past.[Mittal Steel]

Steel-based Economy: Most significant to Cleveland's early economic growth were the steel industry and the related industries that make products from steel. As industry grew in Cleveland, so did the many businesses necessary to support industry, including banking, law, insurance and advertising. In recent decades, much of the steel-making industry and associated manufacturing industries have moved away from Midwestern cities like Cleveland to locations in the west and the south or even overseas. Cleveland's challenge has been to retain as much of its core manufacturing industry as possible, sometimes in a modernized form, and to replace lost manufacturing jobs with equally high-paying jobs in growing sectors of the economy. Such sectors include bio-medical technology, advanced manufacturing, and information technology, as well as the more traditional fields of law, finance, marketing, and visitor-related services.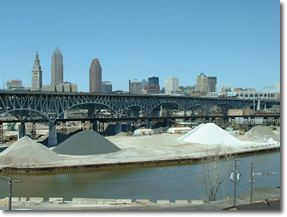 The Cuyahoga River's future may include consolidation and/or relocation of some existing industries to provide for more natural features in the river channel and riparian area. [Cuyahoga River near Lorain-Carnegie Bridge]

Favored Modes of Transportation: Cleveland became a city in the first place because of the natural assets it enjoyed as a hub for commerce. Most important was its location at the confluence of two navigable waterways, Lake Erie and the Cuyahoga River. The city's rapid growth as a center of commerce and industry was fueled by the creation of additional transportation assets, most important among those being the Ohio & Erie Canal and rail lines, then port facilities, inter-state highways and Cleveland Hopkins Airport. As trucking has replaced rail- and water-based transportation, many firms have moved to suburban locations with better freeway access.

Workforce Requirements: Steel, and steel-related, manufacturing in the period from the mid-19th through the last decades of the 20th century required a strong back, physical stamina, and the ability to master certain mostly mechanical skills, but not much formal education. The shift in recent decades to industries that make greater use of advanced technology has heightened the importance of a highly educated and technically skilled workforce. The presence of such a workforce can be a powerful factor in the willingness of companies to locate in Cleveland; just as important, this kind of preparedness will position Clevelander residents to secure higher-paying jobs in these emerging industries.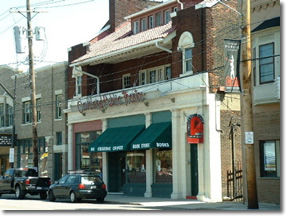 Quality of life issues raise awareness of the importance of such entities as Cleveland Public Theatre in influencing job location decisions, for both businesses and workers. [Detroit-Shoreway neighborhood]

Workforce Mobility: Another dynamic, now also at work, is impacting Cleveland's ability to remain economically competitive in the 21st century. Earlier in Cleveland's history, it was the availability of jobs that attracted new residents and drove the area's economic growth. Generally, jobs materialized as a result of things like geographic location (proximity to raw materials and markets) and available means of transportation (access to raw materials and markets). Today in Cleveland and throughout the nation, a new trend is in evidence: Jobs are being attracted to metropolitan areas by the quality of life available there. Advances in transportation and communication, especially computer networks and the Internet, have made many workers—and entrepreneurs—more mobile than ever. Bright and talented people, in particular, no longer feel "stuck" in their hometowns. Since they can, for practical purposes, do their work almost any place, many are willing to move anywhere in the nation to find the "ideal" quality of life. And experience has shown that where these people decide to relocate, jobs will follow. These days, the answer to the age-old riddle about the chicken and the egg is: Who cares? Lure the chicken, get the eggs.

Creating "Cities of Choice": Thus, things that once seemed little more than frosting on the cake—the presence of a large lake, parks and other amenities, unique living situations, distinctive neighborhood settings and classic architecture, great cultural and educational resources, and access to a wide range of opportunities—from recreation to superior health care—take on an enormous importance. Indeed, contemporary urban research suggests, the perception of a city as a place that not only tolerates but values and supports diversity and individuality is becoming a strong factor in many people's choice of where to live. In a time when people are increasingly aware that they have the ability to make many choices, the challenge is to give them reasons to choose Cleveland; and existing residents and companies, reasons to stay or to move back into the city. Economic development in the 21st century will (and must) be closely tied to all these things.

The Connecting Cleveland 2020 Plan therefore proposes an integrated strategy for economic development designed to accelerate Cleveland's transition from a 19th- and 20th-century manufacturing town to a more diversified and vibrant center of commerce and industry for the 21st century. This time of transition is a time for a fresh vision of what we want our city to be by 2020, which in some cases may demand we abandon old ways of doing things and move, deliberately and thoughtfully, in new directions.

New Directions: Changing circumstances and a reassessment of Cleveland's strengths in six areas, including the importance of a strong employment base, have led to a growing consensus that efforts in those areas should be focused in new directions or on new objectives:
Cleveland's impressive manufacturing infrastructure still plays a vital role in the local economy, but its future competitiveness should be pursued jointly by all stakeholders, i.e., the private, public, and non-profit sectors. [Goodrich-Kirtland Park neighborhood]

Advanced Manufacturing: Build on Cleveland's strong base in traditional manufacturing with technological adaptations needed to keep those industries competitive.
Technology: Leverage Cleveland's formidable assets in the areas of medical research and higher education to generate jobs in biomedical technology and other high-tech fields.
Connecting People and Jobs: Improve access of city residents to good jobs through effective job training, employer incentive programs, and strategically deployed transit services.
Regionalism: Capitalize on the combined assets of the city and its region in a coordinated initiative for regional economic prosperity.
Urban Living: Capitalize on the new interest in urban neighborhoods and the unique opportunities offered by urban living to attract talented individuals and entrepreneurs to Cleveland.
Culture & Recreation: Enhance the attractiveness of urban living by developing a more robust arts community and better access to waterfronts and recreational opportunities.
Immigration: increase the immigrant population as a means inviting creative thinking and entrepreneurial activity.
It is important that the potential benefits and overarching purpose of economic development be kept in mind.
Benefits: The benefits of economic development to the local community are two-fold: (1) Jobs for city residents and a resulting higher standard of living; and (2) an expanded source of tax revenues to support the vital work of the City and its school district and a resulting higher level of services to city residents.
Purpose: If the full benefits of economic development are to be had, the whole purpose of this effort needs to be kept in mind in every phase and aspect of the process. The purpose of economic development can be summarized as follows:
Increase employment in the city and prevent job loss.
Maximize the number of jobs paying higher salaries.
"Connect" all city residents to job opportunities, including segments of the population that do not now fully share in the area's economic opportunities.
"Economic development" means not only increasing the number and types of jobs located in the city, but also the access of city residents to those jobs. Stated even more succinctly, Cleveland's "Big Picture" goals for economic development could be expressed as follows:
More jobs
Better paying jobs
More jobs for city residents, including minorities
Next Page:Economic Development:Assets