What is a Sustainable Cleveland?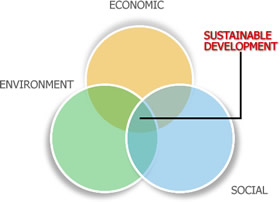 Sustainability is commonly defined as the ability to meet the needs of the present without compromising the ability of future generations to meet their own needs. Three overarching objectives of sustainability are known as the Three E's – Economic Prosperity, Environmental Quality and Social Equity / Equal Opportunity. The Connecting Cleveland 2020 Citywide Plan seeks to recreate a city that considers the Three E's in all decision-making for today and tomorrow.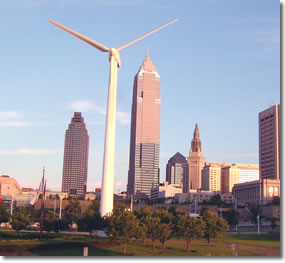 Cleveland 's high profile icon of sustainability. [The Great Lakes Science Center's Wind Turbine, Downtown]
Because past generations viewed natural resources as limitless, nature was something to be tamed and served as a dumping ground for myriads of waste, today we must address the consequences of actions that have, in fact, compromised our "present." These consequences include, among others, contaminated brownfield sites, urban sprawl, over-dependence on the automobile, energy-wasting buildings, poor air and water quality, and unhealthy lifestyles associated with unhealthful development patterns. If we are wasteful and polluting of our local environment, we not only harm our own public health and the resources we depend upon to survive, but we add to global environmental and health problems.
Sustainability, however, requires even more than protection of our natural environment and ourphysical health. Just as important is the commitment to the minds of our children and all Clevelanders – providing them with the education that will enable them to adapt to ever-changing economic and social circumstances. In this sense, an educated community is a sustainable community, just as much as a healthy community is a sustainable community.
Where We Are with Sustainability
A trend toward urban living in cities like Chicago and Columbus and thriving neighborhoods in Cleveland, like Tremont and Ohio City, show us that we need to have the tools and diversity of housing stock in place to attract people to the City.
Although Cleveland's population continues to decline, we have many assets to build off of in order to bring people back to the City. Cleveland already has an urban form that can accommodate much more density and liveliness. Developing in urban environments is inherently sustainable rather than building on undeveloped land ("greenfields") in the outer suburbs, because the infrastructure (which is costly to construct and maintain) is already in place as is the older building stock that can be rehabilitated and re-used. The City Planning Commission has been working to create mixed-use neighborhoods that are pedestrian friendly, bicycle friendly and transit-oriented to make Cleveland a more competitive place to live, work and visit.
A major portion of that work has been amending the City's zoning code to promote sustainable development ("smart zoning"). For years Cleveland's zoning code has been much more accommodating to mixed-use land use patterns as compared to many other cities because of the "pyramidal" nature of the regulations. That is, uses which are considered more intense (e.g. industry) are not allowed in districts zoned for less intense uses (e.g. residences), but less intense uses could be developed in districts zoned for more intense uses. For example, a district might be zoned for retail, but the zoning would allow single-, two- or multi-family uses to be developed there. To further promote sustainable development the City has recently made the following changes to the zoning code:
Open Space & Recreation (OSR) District – New zoning classification to protect and make permanent public parks, community gardens, open spaces and natural areas for recreation, scenic and environmental enhancement (Chapter 342).

Midtown Mixed-Use District – New form-based zoning district to encourage dense, compact land development with a pedestrian-oriented mix of uses and design criteria set to complement the Euclid Corridor Transportation Project investment (Chapter 344).

Live-Work Overlay District – New overlay district that permits the re-use of older, under-utilized industrial buildings for a combination of living and working space, even in industrial districts that otherwise prohibit residential use (Chapter 346) . Recycling existing buildings uses less energy and resources than building new, and capitalizes on construction quality far superior to what is typically constructed today.

Business Revitalization Districts (BRDs) – Districts with neighborhood-level design review committees that mandate the review of all exterior building and site modifications to ensure compatibility with each specific neighborhood's historic character. BRDs play an important role in protecting the density, balance of uses and pedestrian orientation that make these communities sustainable. In 2006, there are 17 BRDs established in the City. (Chapter 303).

Pedestrian Retail Overlay (PRO) District – Zoning overlay district created to preserve the pedestrian-oriented character of our unique shopping districts, accomplished through regulatory tools addressing building placement, use, reduced parking requirements, etc. (Chapter 343.23).


This park conversion is a wonderful, green respite for downtown workers from the concrete parking lot that stood in its place in 2005. [Mall C, Downtown]

Downtown Surface Parking Lot Prohibition - Prohibits new surface parking lots in the core of downtown to preserve downtown's urban architectural character (Chapter 349.14).


Urban Lot Sizes – Amendment to Cleveland's subdivision regulations allowing the creation of "substandard" lots (e.g., lots that are smaller than otherwise required) where such small lot sizes are characteristic of many of our older, urban density neighborhoods (Chapter 309.26).


Urban Townhouse District – New zoning district created to ease the approval process for townhouse developments of varying densities. Townhouses are an urban housing form underrepresented in Cleveland's housing stock (Chapter 337.031).


Planned Unit Development (PUD) Overlay District – New overlay district which provides zoning flexibility in return for innovative site planning and urban design amenities (Chapter 334).
In addition to changes to the zoning code, the City has undertaken a number of other initiatives to promote sustainability.
The City has created the positions of Sustainability Programs Manager and Land Revitalization Manager, two important jobs aimed at reducing costs by ensuring that resources are used efficiently and that contaminated lands are cleaned and put back into productive use.


Many projects have resulted from these two positions including construction and demolition debris recycling in the Division of Water; the City's 2006 Anti-Idling Policy for City vehicles; the purchase of hybrid City vehicles (32 hybrids in fleet as of September 2006); and an Industrial Landbank Program to assemble and clean up industrial sites for redevelopment.



Cleveland 's model of a sustainable, transit oriented neighborhood with high density housing, transit-accessibility, in a walkable shopping and entertainment district [ Shaker Square, Buckeye-Shaker neighborhood]

Transit Oriented Development (TOD) – TOD is a tool used to create high density, walkable mixed-use, mixed-income development around new rail stations and transit stops. TOD is implemented through site review and the intent is to improve quality of life through reducing household transportation expenses, reducing environmental effects and pollution from automobile exhaust in a city with very high asthma rates.


Pedestrian Oriented Development (POD) – POD is also implemented through design and site review. By recommending building placement at the sidewalk and parking at the rear the City encourages pedestrian convenience.


Draft Citywide Bikeway Plan – City Planning has developed its first draft bike plan with recommendations for the locations of bike routes, lanes and multi-purpose trails throughout Cleveland. The plan also proposes connections that will link City neighborhoods and neighboring suburbs as part of a regional bikeway network.

City Racks / City Seats Program – The program will install 500 bike racks around Cleveland at schools, recreation centers, neighborhood retail districts, downtown, etc. 200 benches will be installed or replaced in parks and retail districts for use by pedestrians.



Mayor's Bicycle and Pedestrian Advisory Committee – The City has established an interdepartmental committee that reviews roadway/planning projects to ensure bicycling and pedestrian accommodations.


Mayor's Streetscape Committee – This interdepartmental committee reviews changes to the public right-of-way that affect urban design. The intention is to decrease visual clutter and incorporate amenities like street trees, banners and bike lanes on Cleveland streets.


Plans Review Training - The Cleveland Building and Housing Department is training building inspectors and plans examiners in green / high performance building ( link to Green Building topic on p. 6 for definition ) review.


Development Incentives - Cleveland's Economic Development Department is currently working to create development standards and incentives for green / high performance development for the Industrial Landbank Program.


Housing Trust Fund – The Cleveland Community Development Department included financial incentives for green / high performance building (including an Energy Star credit and LEED silver bonus) as part of the 2006 Housing Trust Fund (HTF) application. The HTF dedicates funds annually to support affordable housing.
Many City initiatives were created without the intent of being 'sustainable,' but are sustainable in nature by combating sprawl.
Rehabilitation programs that aim to preserve and bring back existing housing stock.

The Cleveland Landmarks Commission encourages preservation of historically and architecturally significant buildings.
The Cleveland Community Development Department has several residential and commercial rehabilitation and renovation programs.



New housing construction program within Cleveland's Community Development Department. Because the majority of our new housing is built on vacant lots, this infill development is inherently sustainable because it uses the existing infrastructure and results in few demolitions.
Where We're Going
The City needs to be a leader in making Cleveland sustainable. If we embrace sustainability principles and acknowledge our greatest challenges, high levels of poverty and a distressed economy, we will find holistic solutions that strengthen our community in the long-run.
With Cleveland's manufacturing base and skilled labor pool, it is a natural place for industries oriented towards sustainability to develop. A sustainable Cleveland cannot be addressed passively, and will require major reassessment of the way we look at all components of our City within the greater region, an effort that needs the political will of community leaders and the public. With serious national and global issues affecting our daily lives, from dwindling oil reserves to rising costs of living, we must position ourselves so we can sustain our population when times get tough. We also must push for a political climate at the state level that is more sympathetic to urban issues.
A sustainable Cleveland is a city that conserves natural resources so that they are plentiful in the future. A sustainable Cleveland is a city that provides educational and employment opportunities to current residents in order to ensure economic prosperity for future generations. A sustainable Cleveland is a city that provides opportunities for healthy living to all citizens. A sustainable Cleveland is one that makes short-term decisions, be they cultural, economic, social or environmental, with our community's long-term health and vitality in mind. We must have the courage and determination to imagine a new Cleveland, a Cleveland for the 21 st century. The time has come for all of us to stop thinking of Cleveland as a "Rust Belt" city struggling to regain its glorious but smoky past and start thinking of ourselves as the residents of a dynamic urban center in a most enviable natural setting, planning and laying the groundwork for its exciting future as the Green City on a Blue Lake.
Back to Top
Next Page:Sustainability:Trends