Each community and each region in the nation has its own unique combination of assets. Cleveland must use its assets as guideposts in charting a course to economic prosperity. It is recognized that Cleveland will not become the next Silicon Valley nor will it become the next Disney World! If Cleveland is to prosper economically, however, it must work to enhance those uniquely Cleveland assets that will make the city most competitive in the 21st century. Key assets on which Cleveland's economic growth and regeneration can and should be built can be grouped under the following headings:
ACCESS TO MARKETS AND RAW MATERIALS
A central location within the metropolitan area and within a populous region of the nation
Excellent access to transportation by air, water, rail and highway
MANUFACTURING CAPABILITY
A well-established base of manufacturing firms, particularly in metals-related industries, and an associated skilled workforce
PLENTIFUL LAND, WATER & ENERGY
Under-utilized land near freeway interchanges
Plentiful and affordable water resources
Readily available utilities, including a municipally-owned electric utility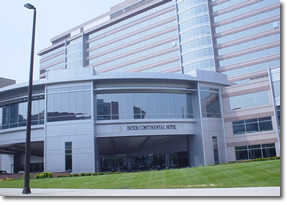 The world-renowned Cleveland Clinic, one of the City's largest employers, is situated in an industry sector (health care/biotechnology) poised for sustained growth. [Cleveland Clinic Inter-Continental Hotel]

NATIONALLY RANKED INSTITUTIONS
Nationally renowned medical and academic institutions, led by the Cleveland Clinic, University Hospitals, Case Western Reserve University, and internationally known Gestalt Institute. The latter's integrative, deep-structure approach to human and organizational systems has been used effectively by small businesses, organizations and Fortune 500 companies held back by entrenched or conflictingways of interacting to create organizational changethat is both lasting and sustainable.

CUTTING-EDGE INDUSTRIES
An emerging bio-medical technology sector, associated with the area's medical and academic institutions
An emerging environment-related business sector, focused on brownfield remediation, green building, alternative energy sources, etc.
CULTURE & RECREATION
Cleveland's vibrant arts scene, which includes its historic theater district, contributes mightily to the City's draw as a cultural destination spot. [Playhouse Square Center]

Nationally renowned cultural institutions, including the Cleveland Orchestra, the Cleveland Museum of Art, the Cleveland Playhouse, Karamu House and Playhouse Square Center (with 10,605 seats, the second largest performing arts center in the U.S., after New York's Lincoln Center)
An extensive park system, including the famed "Emerald Necklace"Lake Erie, with 12 miles of shoreline, marinas, sail boating, fishing & lakefront living
URBAN LIVING
Mixed-use, pedestrian- and transit-oriented neighborhoods with distinctive, often historical architectural character, capable of attracting creative and entrepreneurial residents
Loft-style living, urban townhouse, historic homes and other housing options
A strong network of neighborhood-based community development corporations that tackle development challenges that the private sector is unwilling to. Examples include historic theatre renovation and urban wetlands enhancement.
Next Page:Economic Development:Challenges