Parks and open spaces play an important part in the quality of life of city neighborhoods. It should come as no surprise, in fact, that numerous studies have found that the presence in a neighborhood of parks ands open space increases the value of surrounding properties. But parks and natural greenspace not only make our neighborhoods more attractive places, they provide opportunities for recreation and exercise essential to good health. The more health-conscious Clevelanders become, the more they will see the importance of creating an environment that makes a healthier life style easier to incorporate into one's daily life. Parks provide opportunities for neighbors to socialize and get to know one another, fostering a sense of community.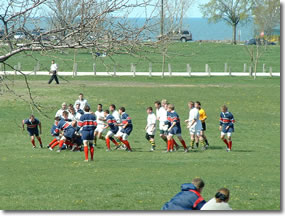 Recreational activity provides many physical, psychological and social benefits for a community. [ Edgewater Park]
Parks, even small pocket parks, foster the spirit of play. Play has been shown to improve a child's capacity to learn, reason and develop strength and coordination. The recreational opportunities afforded by parks, baseball diamonds and outdoor basketball courts, keep at-risk youth off the street and provide them with positive outlets for their energy.
Attractive greenways and off-street trails that meander through a community can be used not only for recreation but for traveling to stores and other destinations. Bicycling provides an affordable alternative to combustion-driven transportation for many as well as a means of exercise. Developing greenways and connecting trails, along with some "bicycle-friendly" streets, is an effective way of encouraging residents to increase their physical activity. In addition to the health benefits, physical activity relieves symptoms of depression and anxiety and enhances psychological will being. A growing body of research indicates that just contact with the natural world improves physical and psychological health.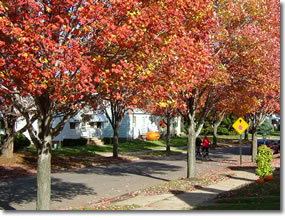 Street trees provide both aesthetic and environmental benefits. [Old Brooklyn neighborhood]
Natural areas also form a kind of "green infrastructure" that performs many practical functions—such as improving air and water quality, reducing flooding and mitigating the effects of the "urban heat island"—that save communities money.
By absorbing and filtering out nitrogen dioxide, sulfur dioxide, ozone, carbon monoxide and particulate matter with their leaves, trees in the city provide a vital air cleaning service to city residents. In the hot summer months, they offer shade, helping to reduce residential temperatures and the amount of energy required for air conditioning. By absorbing much of the rainfall and filtering out some of the airborne and surface pollutants rain collects, trees, landscaped areas and natural areas also have a positive impact on the amount and quality of storm water runoff that enters our streams and the sewer system.
Some open spaces can even become community gardens, allowing residents to grow healthy fruits and vegetables, which can be expensive for lower-income residents to purchase at stores.
Back to Top
Next Page:Recreation and Open Space:Trends