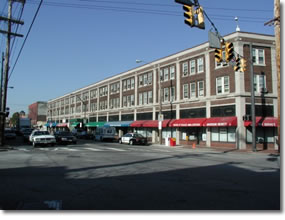 The Gordon Square Arcade in the Detroit-Shoreway neighborhood typifies Cleveland's streetcar-style retail architecture [Gordon Square Arcade]

As a mature city, Cleveland faces many challenges in maintaining stable neighborhoods. One of those challenges is providing city neighborhoods with a full array of high quality shopping services. This has become increasingly difficult as the consumer base has spread outward (with retailers in hot pursuit), not only into suburban Cuyahoga County, but into the five-county metropolitan area that includes Geauga, Lake, Lorain and Medina counties. This thinning of the populace that once supported a host of neighborhood stores has, in turn, led to an inevitable erosion of shopping opportunities within the city. The result has been that many of the residents who have remained in Cleveland, particularly those in the outer fringe neighborhoods, are ironically now forced to travel to suburban and exurban areas even for basic goods and services.

Unlike many of the newer suburban communities, however, where the nearest shopping center frequently sits on an isolated outlying site accessible only by automobile, the neighborhood shopping district in Cleveland is seen as integral to the life—and viability—of the local community. Indeed, most of these retail districts, which tend to be linear in shape, date from the streetcar era of the 1910s and 1920s, before the automobile had become affordable to the masses, when most residents rode mass transit to and from work and other daily activities. At the end of the day, when they got off at their stop, they would patronize locally owned stores that were but a short walk from their homes. Major thoroughfares like Lorain and Detroit Avenues on the west side and St. Clair and Kinsman Avenues on the east are still lined with the remnants of this type of retail.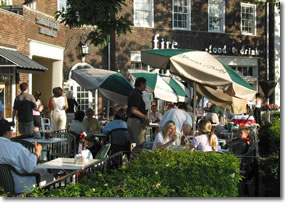 Sidewalk cafes add color, vitality and energy to traditional neighborhood retail areas [ Shaker Square outdoor cafe]
In other cases, the integration of shopping into the neighborhood has been the result of a planning policy that places a value on the creation and preservation of an urban "sense of place" and endorses the concept that a vibrant retail district adds to the quality of life in the surrounding neighborhood. The presence of a variety of retailers offering a wide array of goods can be a deciding factor when families or individuals are looking for an area in which to rent an apartment or purchase a home. Being able to walk, bike or drive to a conveniently located retail node is, for many, the critical piece of an urban lifestyle and affords an option unavailable in most suburban areas. The Kamm's Corners and Lee-Harvard retail districts, revitalized in the 1990s through the reconstruction of their main shopping plazas, are examples of this type of deliberate retail planning.
The Connecting Cleveland 2020 Citywide Plan takes the "sense of place" concept one step further. The Plan is predicated on the concept that a retail district can be much more than just a place to shop for the necessities of life. Rather, it views retail districts as places of "connection" in a neighborhood—lively, bustling forums where people gather to shop, dine, meet, converse and have a good time. A retail district can be a "town center" that gives a neighborhood its special character and identity; a retail district can also be seen as a generator of jobs and entrepreneurship that contributes to the economic health of a neighborhood and generates tax revenues to provide public services.
Next Page:Retail:Trends