Cleveland has a number of strong assets in the area of Retail Development that can be built upon. Among Cleveland's hidden (or newly innovated) strengths are:
Strong Retail Consumer Base: The income, buying power and retail spending of city residents have long been thought incapable of supporting quality retail; Census figures, traditionally the major source for this kind of information, are often cited to support this assumption. Critics of this view, however, have questioned the reliability of these figures, which are largely gleaned from poverty and unemployment records, contending that the numbers dramatically understate the true health of the urban economy. Nevertheless, widespread beliefs regarding urban buying power has shaped the quality of goods and services found in many of the city's newer retail developments, which are not on a par with those found in nearby suburbs.
The Census figures, in any case, tell only part of the story. The Connecting Cleveland 2020 Plan argues that other evidence suggests many national and local retailers are underestimating the buying power in Cleveland. The fact is that many city residents habitually travel to outlying suburban malls to enjoy a selection of merchandise that is not available to them in their own neighborhoods, while residents of the city's so-called of "edge" neighborhoods such as Collinwood or Kamm's Corners admit they regularly slip "over the border" into Euclid or Rocky River to do their shopping. The 2020 Plan therefore advocates a policy to increase the quality of locally available retail to meet, not just the basic needs, but the expectations and wants, of city neighborhood residents. It is this realization, and strategy, that helped lay the groundwork for the Steelyard Commons project.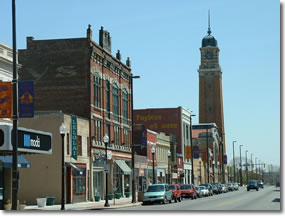 The commercial buildings along West 25 th Street in Ohio City create a pedestrian-friendly retail environment . [West 25 th Street]
Architecturally Significant Retail Districts: The architectural styles of commercial structures in Cleveland's retail districts are often charming reminders of the era in which they were constructed. Many were built in the 1910s and 1920s during Cleveland's streetcar heyday. Unlike many latter retail buildings, which are characterized by a setback, usually to accommodate a parking lot, these pre-automobile culture structures were typically built right up to the street right-of-way line, that is, the edge of the sidewalk. This vintage urban feature, when combined with modern transit accessibility and above-street-level housing, gives Cleveland's retail districts a pedestrian-oriented, mixed-use character—and, in an era that once again values "walkable", largely self-sufficient neighborhoods, gives these areas a competitive edge over many nearby suburban retail centers. Ironically, the latest "cutting-edge" suburban retail developments such as Westlake's Crocker Park and Lyndhurst's Legacy Village are attempts to recapture the look and feel of these older urban districts through their "new urbanist" designs. Cleveland, on the other hand, has the real thing; and the Connecting Cleveland 2020 Plan proposes to re-establish the competitiveness of these special places.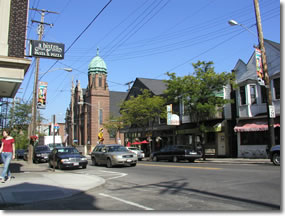 Mayfield Road in the Little Italy neighborhood attracts a region-wide clientele to its collection of art galleries and ethnic-themed restaurants [Little Italy]
Specialized Retail Districts: Many of Cleveland's retail districts have embraced the notion of "specialization" or "niche marketing." Retail districts, for example, that would ordinarily attract only local shoppers have been transformed into regional attractions by offering a specialized clustering of goods and services not commonly found in a single location. In Cleveland, this specialization can take many forms, including: 1) "ethnic-themed" retail districts that capitalize on the diversity of population in city's neighborhoods like Little Italy and Chinatown; 2) "arts and culture" retail districts that capitalize on their proximity to theaters, museums and similar institutions, such as Playhouse Square and the developing Gordon Square Cultural Arts District; 3) recreation-oriented retail districts like the Flats that are poised to capitalize on their proximity to Lake Erie, local waterways and the developing Towpath Trail system; and 4) districts such as Tremont and the Lorain Avenue Antiques District that specialize in such offerings as entertainment, dining, antiques, artwork, and household furnishings. Each of these areas is successfully capitalizing on the ability of a large metropolitan retail market to support specialized retail clusters.
The City of Cleveland, for its part, has developed a number of important regulatory tools that constitute powerful instrumental assets in the area of Retail Development. These include:
Locally-Based Design Review Districts : The City's Business Revitalization District (BRD) zoning overlay permits community development corporations to establish locally-appointed and staffed design review boards. These bodies have jurisdiction within a geographically defined area and serve in an advisory capacity to the Cleveland City Planning Commission. Review by such groups helps to ensure that the design of all new construction and changes to existing building facades are compatible with the character of the surrounding architecture. To date, there are 17 active BRDs across the city.
Pedestrian Retail Overlay District: This overlay zoning district is intended for use in neighborhood retail districts characterized by the presence of retail buildings located at the sidewalk's edge. PRO districts ensure that the pedestrian-oriented character of these shopping areas is preserved. This is achieved through a requirement that any new buildings be set back no further than five (5) feet from a street right-of-way. It further allows for up to a 33 % reduction in required parking and mandates that accessory parking spaces be located at the rear of buildings, where feasible. Most importantly, while the PRO district permits those uses allowed in the underlying Local or General Retail district, it specifically prohibits certain uses that detract from the pedestrian-oriented character of the district. These uses include automobile sales lots, gas stations, car washes and restaurant drive-thrus, whose driveways intersect with a pedestrian retail street and inhibit the flow of sidewalk foot traffic.
Business Improvement Districts(BID): Like many of its peer cities around the country, Cleveland has adopted enabling legislation that permits the establishment of Business Improvement Districts, commonly referred to as BIDs. Under the BID concept, property owners in a defined geographic area, such a retail district, assess themselves a charge over and above their regular property taxes. This creates an income stream that provides funding for services at a level over and above that normally supplied by the municipality. Services that can be funded by a BID generally fall into three categories: aesthetics, safety and maintenance. Coordinated physical improvements such as new sidewalks, lighting, benches, trash receptacles and identity or directional signage can dramatically improve the appearance of local commercial streetscapes. The presence of additional security
patrols or video cameras to complement City police services can enhance the perception of safety in a commercial area. Finally, the desirability of a commercial area as a place to shop and dine can be improved through the development of a regular maintenance program that focuses on sidewalk cleaning, graffiti removal and landscape maintenance services.
Before and after photos dramatically illustrate the impact of the City's Storefront Renovation Program [ Napier Building, Broadway Neighborhood]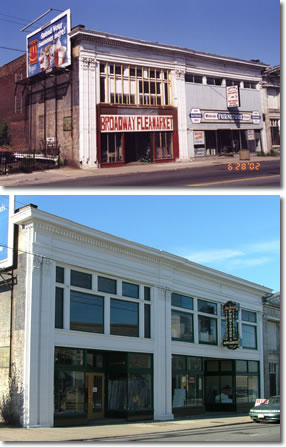 Before and after photos dramatically illustrate the impact of the City's Storefront Renovation Program [Napier Building, Broadway Neighborhood]
Storefront Renovation Program: This initiative, begun in 1983 and run by the City's Community Development Department, has been used to upgrade the visual appearance of more than 1,000 building façades citywide, representing an investment in excess of $30-million. The program offers rebates and/or low-interest loans in geographically targeted areas of the city to property owners who agree to comprehensively rehabilitate their building exteriors. Property owners are required to use construction materials and techniques based on the federal Secretary of the Interior's commercial rehabilitation standards. To aid in this effort, professional design assistance, in the form of a detailed design standards manual and oversight by a storefront renovation specialist, is provided to program participants by the City of Cleveland.
Next Page:Retail:Challenges