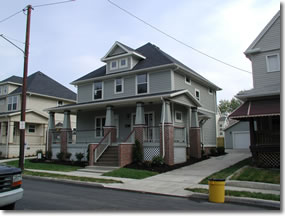 Cityrama 2004 in Glenville neighborhood offers diverse architectural styles, while maintaining the unique character of the neighborhood

Citirama: An annual event inaugurated in 2003 by the Homebuilders Association of Great Cleveland (HBA) that encourages developers who might not otherwise have considered it to build in the city. The goal is to hold an annual Citirama event in each of Cleveland's 36 neighborhoods promoting the urban lifestyle, the special character and advantages offered by each neighborhood, and the many housing options now available. and Unlike many of the newer "cookie cutter" developments, the homes built for Citirama have different architects, which offer a variety of housing styles that complement the neighborhood, including many energy-efficient/environmentally friendly "green" ideas.

Historically Significant Housing: Many of the older homes in Cleveland were built with high quality building materials and beautiful historic architectural detail. The type of architecture and decorative elements in these older homes are not typically seen in more modern housing.

Ethnic Neighborhoods: Cleveland's neighborhoods historically were defined by the many different ethnic groups that migrated here from other countries in the late 1800s and early 1900s. One of the remaining ethnic neighborhoods is Little Italy, which is located at the southern edge of University Circle. Many of the descendants of the immigrants continue to reside in the city. There has been a recent influx of Hispanic and Asian immigrants. Many of the latter reside in the Goodrich/Kirtland Park neighborhood, while the majority of the Hispanic immigrants have settled on the near west side.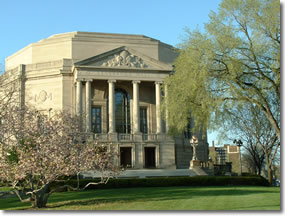 Severance Hall, home of the Cleveland Orchestra, is an example of a cultural amenity which makes Cleveland neighborhoods unique
Proximity to Cultural Institutions and Entertainment Districts: The city of Cleveland has unique cultural, historic and entertainment districts that could not be duplicated. These cultural assets are located within residential communities such as Tremont, University Circle, Buckeye-Shaker, North Collinwood, and the new Downtown residential areas.
Financial incentives: As a way of encouraging housing development and home repair, the City of Cleveland has developed many programs offering financial assistance or incentives including help with arranging second mortgages, property tax abatement, low interest loans, grants, and rebates. (See Community Development Department Web Site: http://www.city.cleveland.oh.us/government
/departments/commdev/cdind.html.)
Land Bank Program: The City acquires vacant and abandoned property which it then resells to developers at a low cost. This program encourages the redevelopment of vacant land and assists in the elimination of blight and crime throughout the city.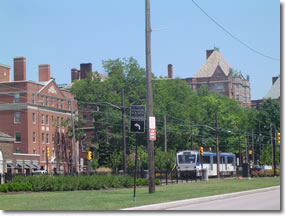 The Shaker Square Historic District is a great example of transit oriented development
Conveniently Located to Shopping and Transit: Neighborhoods such as Shaker Square, University Circle and Ohio City offer residents access to a variety of amenities and a range of transportation options that make a neighborhood a convenient and pleasant place to live. These neighborhoods are also pedestrian-friendly places that foster a sense of community and the development of a sustainable environment.
Next Page:Housing:Challenges