Historic Pattern and Density of Ohio City
The images below are Sanborn Collection maps of Ohio City from 1912. Originally created for fire insurance purposes, this collection of maps give us an excellent recording of the pattern, types, and density of Ohio City as it was developing. The historic density of Ohio City was more than twice what it is today. This is partially due to the number and types of buildings in the neighborhood. Two houses on one lot, large multi-family buildings, apartments over retail stores and row-houses were common.

Sanborn Maps of Ohio City from 1922
Attempts to use the zoning code to de-densify Ohio City are partly to blame for the continued struggle to revitalize commercial corridors such as Detroit and Lorain. The current zoning requires that houses be built at a very low density, meaning small houses on large lots. Often when a house or building was demolished the new structure was required to be less dense. Less density means less people, less people means that business like restaurants and retail stores have less customers. Take a look at the images (below) of Ohio City from decades past. It was density that made those lively streets possible.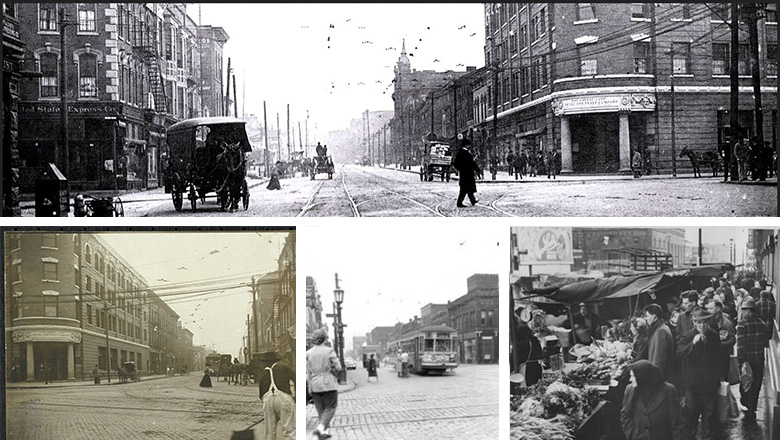 Ohio City in the early 1900's
The History of Zoning in Ohio City
Zoning, specifically Euclidean Zoning, was first introduced in Cleveland in the 1920s, and was intended to separate uses that are thought to be incompatible. In 1929, when zoning districts were mapped in Cleveland, many of city's neighborhoods and structures had already been built/established, especially in Ohio City, one of the City's oldest neighborhoods. Euclidean zoning was a common zoning practice implemented in many jurisdictions across the country.

Left Image: Separating residential from incompatible uses such as factories was the basis for zoning to protect the health, safety and welfare of residents. Right Image: Unfortunately we didn't just separate incompatible uses, we separated all uses. The result is known as sprawl. Low density residential, retail, office and industrial land use patterns require large roads, large parking lots and long commutes. The result has had an unintentional negative impact on the health, safety and welfare of residents.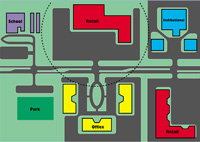 Ideal Conditions under current
zoning code (above).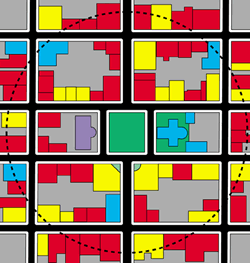 Ideal Conditions under Form Based
Zoning Code (above).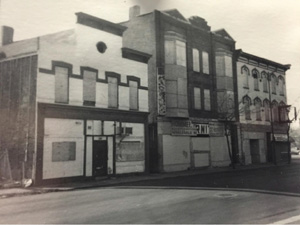 Buildings in the Ohio City Neighborhood (above) that
were demolished for new vehicular oriented
development (below)
"The problem is that one cannot easily build (places like)Charleston anymore, because it is against the law. Similarly, Boston's Beacon Hill, Nantucket, Santa Fe, Carmel—all of these well-known places, many of which have become tourist destinations, exist in direct violation of current zoning ordinances."
- Andrés Duany, Suburban Nation: The Rise of Sprawl and the Decline of the American Dream
Similarly to places like Charleston, Ohio City was largely built out before the advent of zoning or the car. Its traditional form was built around walking. Walking to the West Side Market, to the retail stores and offices on Detroit, Lorain and interspersed within the neighborhood. The mix of single family houses, row houses, and apartment buildings provided a variety of housing options and enough density to support a wide variety of neighborhood uses.
The image to the right (top) represents the ideal development pattern under the current zoning. The dashed line represents a 1/4 mile, or about a five minute walk. The range of uses you can reach within that five minute walk is limited, making it more likely that you must drive.
The image to the right (middle) represents the ideal development patter under the proposed zoning. The dashed line is still a 1/4 mile. You can see that the rage of uses you can reach is dramatically increased along with the density that makes sustaining those diverse uses possible.
At the time the Cleveland zoning code was developed, dense neighborhoods with a mix of uses were viewed as outdated. The new ideal was the single-use suburbs beginning to take shape in the outer edges of the city. Maps like the one below from 1940 were used by banks to determine where they should lend money for mortgages. Most of Ohio City was redlined, meaning banks did not want to lend in the neighborhood. Many houses and buildings were demolished to reduce the density and make room for parking, in hopes of making the neighborhood more like the new suburbs.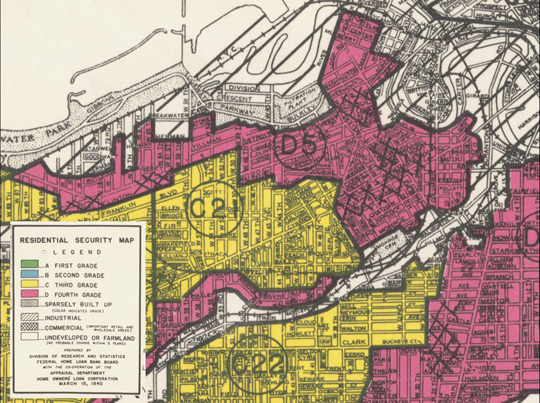 Significant numbers of historic structures in Ohio City have been demolished over past decades to make room for parking lots that are required by the zoning code. The loss of these buildings means that Ohio City has lost much of its dense, original character. We now know that these historic, mixed use buildings, when rehabbed and maintained, are valuable assets that contribute to a more walkable, sustainable and beautiful city. Should zoning continue to value cars and parking lots over the historic character and beauty of Ohio City?