Ohio City Zoning Charrette
In late 2015 the City Planning Commission staff and Ohio City Incorported began working on the process of rezoning the Ohio City neighbrohood in a way that makes sense for both existing property owners and future development. The intent is to ensure that the built environment that exists today that makes Ohio City so special, is replicated in the future. Additionaly, the new code would supprt more walkable, mixed-use districts and encourage alternative transportation methods. While making it easier for developers to more quicly navigate the city processes.
On March 29th, 2016 the City Planning Commission and Ohio City Incorporated held an open house at the Urban Community School on Lorain Avenue to present the results of the planning process and give the local residents an opportunity to ask questions, give feedback and offer suggestions.
How Does Cleveland's Zoning Code Work?
Euclidean Zoning and "Use" Districts
Zones are divided into three basic "use" categories: Residential, Commercial, and Industrial. These categories are then broken into sub-categories. The zones are tiered from most restrictive (residential at the bottom of the pyramid) to least restrictive (industrial at the top). The pyramid works like a nesting doll, uses in the more restrictive districts are also permitted in the less restrictive districts. For instance, a single family home is permitted in the One Family, Two Family and even the General Retail district. A retail use is permitted in the Local Retail, General Retail, Semi-Industry districts but not in the residential districts. The zoning districts work in tandem with the zoning map, meaning that all zoning categories are mapped.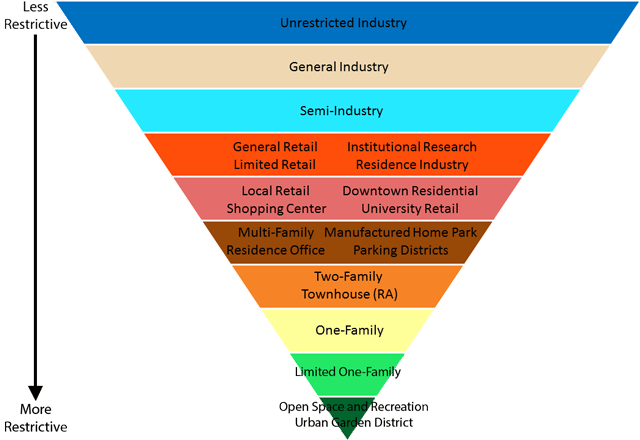 Height and Area Districts
Apart from "use" categories, the zoning code also regulates the height of a building and the area a building can occupy on a lot. Area districts only apply to residential structures or in the case of a mixed-use structure, only those floors with residential uses, are taken into consideration in the calculation for an area district. The area districts range from ½ the lot area (indcated as a B district) to 6 times the lot area (indicated as a K district). Height districts range from 1 (35' max. height) to 9 (900' max. height).
Example: 2F-B1:
Use: 2F indicates two-family residential uses are permitted
Area: "B" allows a residential unit to occupy ½ the lot area, (2,000ft² home allowed on a 4,000ft² lot)
Height: "1" allows for a building up to 35'

Example: LR-G2:
Use: LR indicates that Local Retail uses permitted
Area: "F" allows a building to occupy 2 times the lot area (applies to residential component only)
Height: "2" allows for a building up to 60'
Variances
In some instances there may be a need for special consideration of a property or use that is not permitted by the zoning code. This special consideration is called a variance. Property owners can request a variance if they are one zoning sub-category away from what their intended use requires. For example, if a property owner wants to put an apartment building in a Two Family district, the applicant may request a zoning variance. Variances are considered by the Board of Zoning Appeals (BZA) which accepts testimony by both supporters and opposition of a variance. If an intended use is more than one zoning designation away from current zoning designation (e.g. a retail store in a Two-Family zone) the only remedy would be a rezoning. A rezoning is a longer and more scrutinized public process. Similar to a variance, all affected and neighboring property owners are given opportunities to voice their support or opposition.