2015 City of Cleveland Planning Commission TLCI Projects: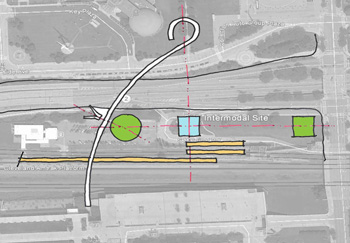 Conceptual plan for a multi-modal transportation facility,
station and site to be located west of E. 9th Street.
Cleveland's Multi-modal Transportation Facility Study, Analysis and Plan
The study will produce a comprehensive evaluation, focusing on the feasibility, site analysis, and area development for a potential multi-phased, multi-modal transportation facility that would accommodate RTA's Downtown Trolley and adjacent light rail service, Amtrak inter-city service, proposed commuter rail, and future high speed rail lines; as well as the relocation of Cleveland's Greyhound Station.  The facility would also connect passengers to surface transportation including regional and inter-city RTA buses, shuttle buses, taxis, automobiles, and Cleveland's future bicycle share infrastructure; and perhaps other public and/or private services, such as Megabus, Akron Metro RTA, Stark Area RTA, Portage Area RTA, and rental cars.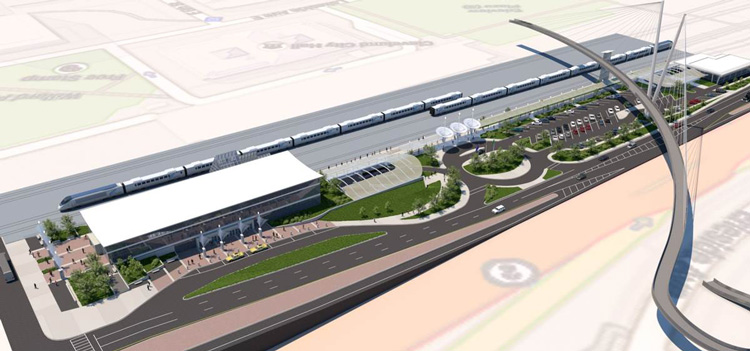 The preferred concept incorporates both the Grand Hall and the Promenade concepts into a Transportation Campus hybrid approach.
Cleveland's Midway Cycle Track & Protected Bike Facilities
The goal of the Midway Cycle Track & Protected Bike Facilities plan is to determine the technical feasibility, programming, and strategic implementation of dedicated cycle tracks and protected bike facilities within the City of Cleveland.  Building upon the preliminary work of our external partners at Bike Cleveland and the YMCA, this plan will examine the function, cost, design standards, and engineering requirements necessary to evaluate the implementation of a successful multi-phase build-out, made possible along corridors such as St. Clair Avenue between E.55th and Martin Luther King, Jr Blvd.  The plan will also determine and rank those corridors that can potentially accommodate a cycle track or protected bike facilities.
The plan will identify those cycle-related strategies and treatments that have the potential to promote economic development, enhance citywide connectivity, improve the quality of life, promote healthy living, eliminate safety hazards, and diversify modal choice for residents, students, and workers in Cleveland.
Check out the final presentation for Cleveland's Midway Cycle Track & Protected Bicycle Facilities TLCI and Feasibility Study. The community had great feedback and looked forward to the next steps in possible implementation.
Final Presentation | Superior Ave. Midway Cycle Track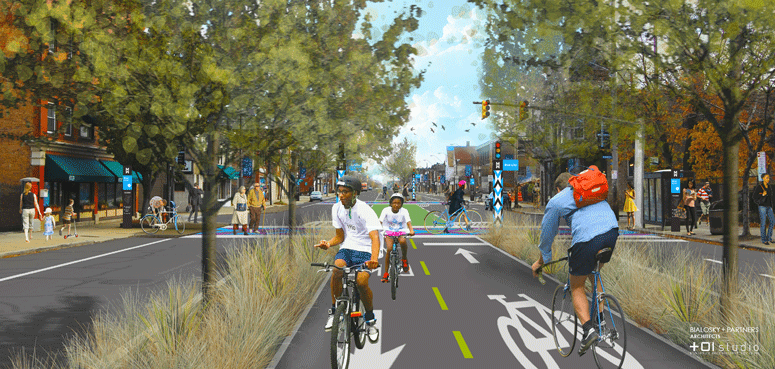 Prpopsed world class cycling network.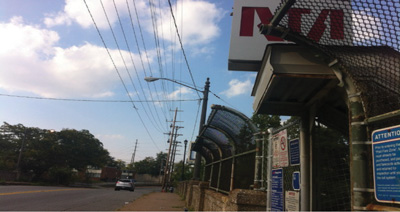 Current conditons on East 79th Street
Cleveland's E. 79th Transit Oriented Corridor Project  
Cleveland's East 79th Street transit Oriented Corridor Study area comprises a section of East 79th Street between Woodland and Carson Avenue. Key destinations within the study area are RTA's Red and Blue/Green Line transit stations. This study examines the East 79th street corridor identifying opportunities for transit-oriented development in proximity to the RTA's Red and Blue/Green Line stations. In addition, this study will focus on roadway and land use enhancements that strengthen the north-south connection to the $331 million Opportunity Corridor. This will help build a sustainable mulit-modal transportation system supporting economic development, and enhance the quality of life for Northeast Ohio. These connections and improvements within the immediate neighborhoods address health, equity and connectivity.