PARTNERS
City Council | CDC's | Cuyahoga County Council
The Northeast Coalition is a group of council members, development corporations, and City departments that were concerned about the state of St. Clair Avenue. The Northeast Coalition was the impetus for conducting a study on a 6.5 mile section of this corridor. Launching a study of this magnitude is so critical because there are currently several planning related initiatives going on the City of Cleveland that could provide additional resources and spur collaborative development.
Cleveland City Council Members
Councilman Michael Polensek, Ward 8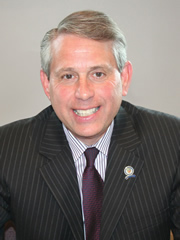 A 36 year Cleveland City Council veteran, Councilman Michael D. Polensek has had the honor to serve Council since 1978, serving 11 terms as a representative. He is the "Dean" of Cleveland City Council and has represented Cleveland's Ward 11 since January 1982, prior to that he represented Ward 26 in the Collinwood and Nottingham communities. In January 2014, he was sworn in to now Ward 8.
Councilman Polensek has a consistent record of progressive civic leadership and is instrumental in development of the Ward 8 community. He served as President of City Council from 1999 to 2002. In that position, he worked diligently for his community as well as to create a legislative body that provided strong leadership for all of Cleveland's neighborhoods. Through his leadership, Council created the Neighborhood Equity Fund, which targeted $21 million for neighborhood development projects in each Council Ward.
As a Council Member, Councilman Polensek fulfills his obligation to the people of his community by working with the City's Administration to ensure that the best services are provided to Ward 8. He is proud to be able to serve the neighborhood where he was born and raised and is honored to be able to continue to make a difference in the Ward 8 community.
Councilman Polensek serves is a member of the Safety; Workforce and Community Benefits; and Utilities Committees.
Councilman Kevin Conwell, Ward 9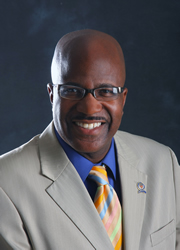 Councilman Kevin Conwell is proud to have served as Ward 9 Councilman since November 2001. His ward includes the Glenville, Little Italy and University Circle areas.
The Councilman focuses his services on family issues and economic development. Notably, he has sponsored legislation to create the Mayor's Taskforce on Responsible Fatherhood and to create a citywide, dual emergency phone system that includes the 311 and reverse 911 systems, which provide key information to Cleveland residents in emergencies.
Recently, Councilman Conwell worked to form the Advocacy and Legislative Coalition for the Disabled, which advocates for laws and policies that promote equality, access and economic security in health coverage for the disabled. He received the Bright Light Award for the initiation of Cleveland's Annual Disability Awareness Week.
Caring for the elderly citizens in his Ward has been a priority for Councilman Conwell. He provides funding support to the Martin de Porres Center that has made it possible for more than 500 seniors to gain access to services. For these efforts, Councilman Conwell received the Martin de Porres Positive Change Award for Community Service.
Councilman Jeffrey Johnson, Ward 10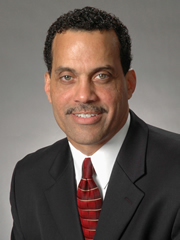 Councilman Johnson currently represents Ward 10, an area that includes South Collinwood, St Clair-Superior, Glenville, Euclid Park and Nottingham Village neighborhoods. He previously served on Cleveland City Council from 1984-1989. He serves as a member of the Health and Human Services; Municipal Services and Properties; Transportation and Workforce and Community Benefits Committees.
Councilman Johnson was born and raised in Cleveland and a graduate of Collinwood High School. After graduating he attended John Carroll University before transferring to Kent State University. Following graduation, Councilman Johnson accepted a fellowship to study City Planning and development from Cornell University for a semester before attending law school at Case Western Reserve University. He graduated in 1984 with his law degree and a Master's degree in Political Science.
Before serving on Cleveland City Council, Councilman Johnson was hired and trained in dispute resolution as a counselor and Mediator in the Cleveland Prosecutor's office handling neighborhood disputes. He joined the Glenville area Ward 8 Club and began volunteering within the community with former Councilman Michael R. White.
In 1984, Councilman Johnson was appointed as Councilman for Ward 8 as White was appointed to the Ohio State Senate. He was then elected as the old Ward 8 Councilman 90 days later and re-elected two times in 1985 and 1989. Councilman Johnson served over 5 years in Cleveland City Council, and was co-sponsor of the city's first Fair Housing law and led the successful effort to establish Cleveland's Sex Crime and Child Abuse Investigative Unit in the Cleveland Police Department. During his tenure, the Ward 8 area received new economic and housing development projects including the Glenville Plaza, Eastside Market and Abyssinia Towers, a senior citizen apartment complex.
Community Development Corporations

St. Clair Superior Development Corporation's (SCSDC) role in community development began over 30 years ago with the founding of two community-based organizations – the St. Clair Business Association and the St. Clair Superior Coalition. In 1999, these two community organizations merged to better service the same citizens with more coordination, united resources and for greater community impact.
The SCSDC service area extends from East 30th Street on the Western boundary to Martin Luther King Boulevard as the Eastern boundary, South to Superior and Payne Avenues and North to the Lake in Cleveland, Ohio. The area is home to several diverse populations found throughout the distinct ethnic neighborhoods, a stable industrial corridor, growing arts scene, and a myriad of unique dining and shopping venues.
Current SCSDC programs, such as, Community Involvement and Organizing, Arts and Culture, Planning and Real Estate Development, Sustainability Programs, Housing Services and Business Development, are seeding the way toward the evolution of supplementary programs and activities designed to drive economic development and support each of the programs above.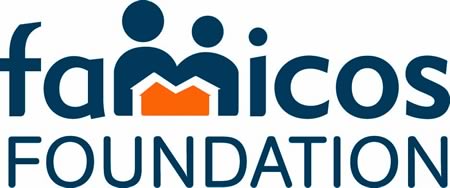 Famicos Foundation is one of the oldest community development corporations (CDC) in the city of Cleveland. We are a not-for-profit affordable housing developer and social services provider with a housing portfolio that ranges from permanent supportive housing for chronically homeless individuals to market-rate housing for moderate and middle-income families.
Our housing solutions and residential services adapt to meet resident needs and neighborhood concerns. Through resident services and neighborhood outreach we help families achieve home ownership, prevent homelessness, reach educational benchmarks and keep youth engaged in positive activities.
As our neighborhoods recover from disinvestment our work expands to include comprehensive neighborhood planning and development. Strong community involvement helps plan for infrastructure improvements and place-based community building activities that strengthen and promote our neighborhoods.
The bulk of our efforts are focused in the Glenville and Hough neighborhoods of Cleveland. However, our charter allows us to spread our mission throughout the greater Cleveland region. In addition to Cuyahoga County we serve Geauga, Lake and Medina counties, where we have partnered with others to preserve expiring affordable housing units for those most in need.

The Collinwood & Nottingham Villages Development Corporation is a local nonprofit Community Development organization that has been serving the South Collinwood neighborhood of Cleveland Ohio for over 25 years. Our sole mission is to benefit residents and businesses in the South Collinwood & Nottingham Village area. This includes new opportunities for home ownership through our housing redevelopment program, home repair assistance, and community engagement.
Since 2006, Collinwood & Nottingham Development Corporation has redeveloped over 45 homes resulting in over $5 Million in new investment in South Collinwood. All of these homes were sold to owner-occupants further strengthening the neighborhood. The Collinwood & Nottingham Village Development Corporation also aggressively works with the business community to expand new investment and employment opportunities for our residents.
South Collinwood is an east side Cleveland neighborhood, long known for its stable housing market, cozy appeal, and a strong network of churches and other institutional stakeholders. People who live, work, and play here really love this neighborhood and we welcome you to come see what we have to offer firsthand.
Cuyahoga County Council Members
County Council Representative Yvonne Conwell, District 7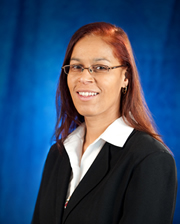 Yvonne M. Conwell is honored to serve as the County Council Representative for District 7. She is committed to building an effective and efficient County government that continues to work every day for safer neighborhoods, stronger health and human services, and the inclusion of a vigorous business environment that promotes sustainable economic growth and equitable job development.
The Councilwoman primarily focuses on initiatives that promote positive youth development, upholds the mission of Health and Human Services, and fosters economic development.
County Council Representative Anthony Hairston, District 10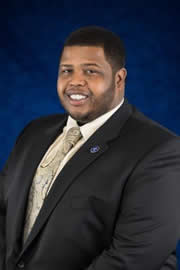 Anthony T. Hairston is a lifelong resident of the Collinwood Community. Mr. Hairston is a graduate of Collinwood High School, received his Business Degree from Cleveland State University, Monte Ahuja College of Business and is a candidate for his Master of Labor Relations & Human Resources at Cleveland State University. Having been involved in local politics for over ten years, he leads by example and has long worked for positive change throughout his community. In 2010, Councilman Hairston was featured in the Call & Post Newspaper as being "The Youngest Elected Ward Leader in the State of Ohio."
Mr. Hairston is committed to serving his community as a tutor, mentor and volunteer.
Mr. Hairston is chair of the Community Development Committee.