SCOOTER AND BIKE SHARE PARKING
Because scooter and bike share devices are 'dockless,' people can use them to ride from point-to-point easily. Parking scooters and bikes in the right place at the end of a ride is important to keeping sidewalks and roads safe.
When you end your ride, look on the sidewalk or in the smartphone app for a nearby designated scooter and bike parking area. Vendors may provide an incentive for parking in a designated area.
You may also park the scooter or bike anywhere on the sidewalk in the "furniture zone," as long as you don't block access for others. The furniture zone is the area between the curb and the walkway where there may already be trash cans, bus stops, benches, and bike racks. Keep an eye out so you don't block:
the pedestrian walkway (leave at least 6' of space)
bus stops and shelters
doorways and emergency exits
fire hydrants and standpipes
driveways and sidewalk ramps
Scooters and bikes should never be parked in the roadway and should always be left standing upright.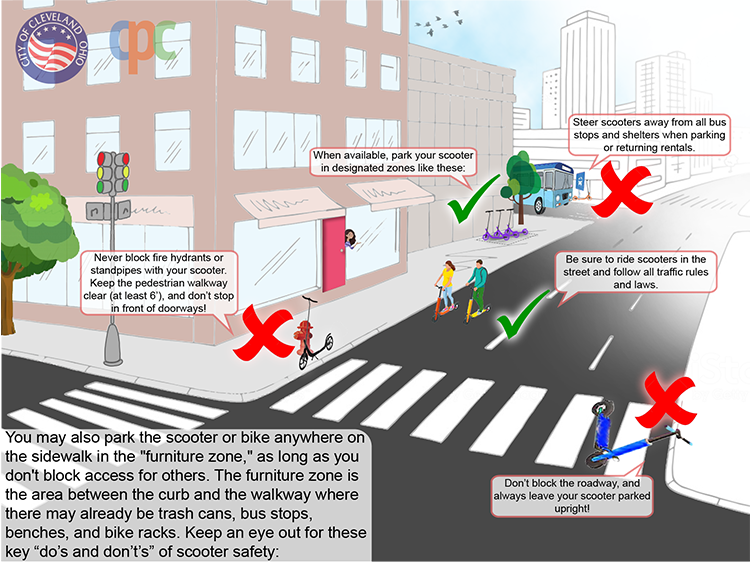 Keep in mind that not all sidewalks are wide enough to have a furniture zone. You may need to leave your scooter or bike on a nearby block where there is room for both dockless parking and a walkway for pedestrians.
While leaving scooters and bikes in the furniture zone near existing bike racks is a good idea, do not park dockless devices against them. People need access to these to securely lock their personal bikes.
Is there a place you'd like to see a designated scooter and bike parking area?