Southeast Region
Meeting Times and Location
5:00 p.m. – Generally 2nd & 4th Wednesdays of the month (schedule/agenda)
Mt. Pleasant NOW Development Corp. - 13815 Kinsman Road
Region Description
The Southeast Region generally covers the area of the City east of East 93rd Street and Woodhill Road and south of University Circle. This region includes the following Design Review Districts: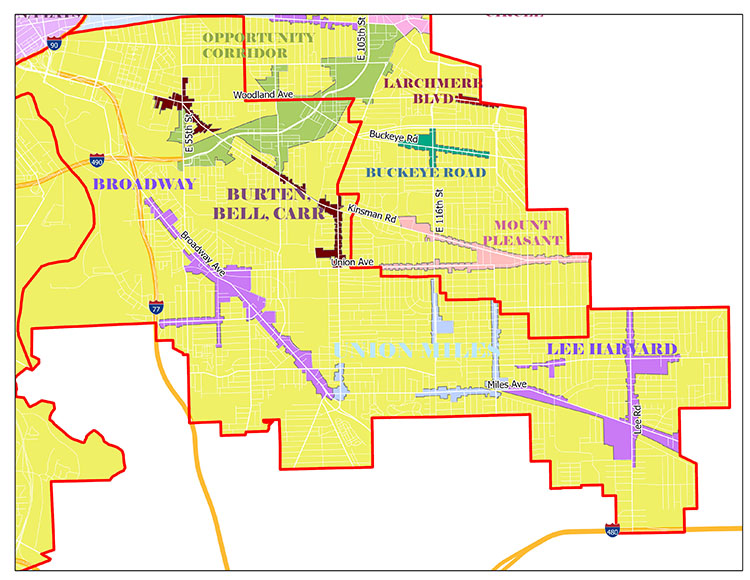 To check the status of a case in the Southeast Design Review Region click here.
The Southeast Committee also reviews projects in the Miles Park, Arthur Bussey Development and Feiner Homes Historic Districts as advisory to the Cleveland Landmarks Commission.
The Southeast Committee does not review projects in the following designated Local Landmarks Districts: (these districts are reviewed by separate local committees advisory to the Landmarks Commission)
Ludlow Historic District
Shaker Square Historic District
City Planning Staff
Kenya Gray 216 420-8392 kgray2@city.cleveland.oh.us
Committee Members
Dan Bickerstaff (Architect)
Michelle Bandy-Zalatoris (Urban Designer/Planner)
Julian Kahn (Resident)
Lester Cumberlander (Architect)
Eugene Cranford (Design Professional)

Alternates
Anthony Whitfield (Engineer)
Willie Jones (Resident)

Khrystalynn Shefton (Planner)
Anthony Whitfield (Chair)
Stephanie Strawbridge (Resident)
David Wilson (Landscape Architect)