Downtown/Flats Region
Meeting Times and Location
9:00 a.m. – Generally 1st & 3rd Thursdays of the month (see schedule/agenda)
Room 514 Cleveland City Hall – 601 Lakeside Avenue
Region Description
The Downtown/Flats Region generally covers the Downtown and Flats area from West 25th Street on the west to the Innerbelt on the south and east. It also covers the Lake Erie shoreline from Bratenahl on the east to, and including, Edgewater Park on the west. It also encompasses the Hopkins Airport area south of I-480. This region includes the following Design Review Districts:
Downtown/Flats Design Review District | Map (PDF)
Lakefront Design Review District (excluding the section south and east of I-90) | Map (PDF)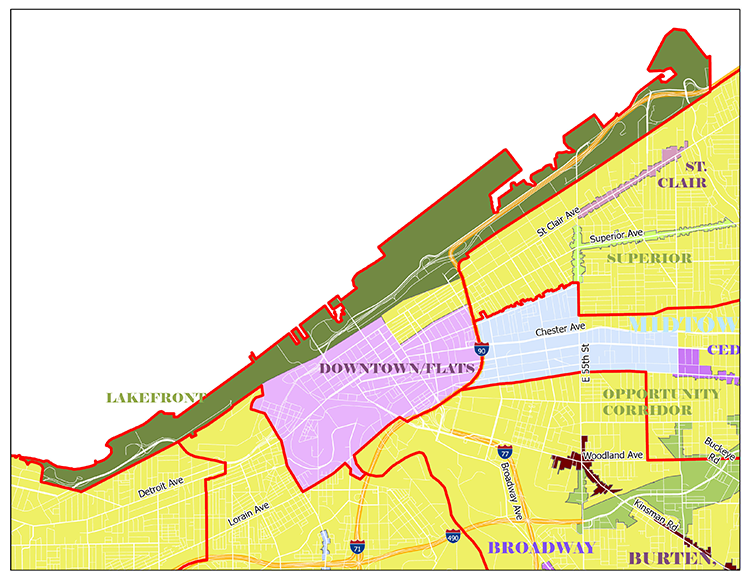 More detailed maps of the Design Review Region can be found here and for individual Design Review Districts click here.
To check the status of a case in the Downtown/Flats Design Review Region click here.
Cleveland Flats Design Guidelines click here.
The Downtown/Flats Committee does not review projects in the following designated Local Landmarks Districts:(these districts are reviewed by separate local committees advisory to the Landmarks Commission)
East 4th Historic District
Mall Historic District
Market Square Historic District
Ohio City Historic District
Playhouse Square Historic District
Prospect Avenue Historic District
Warehouse Historic District
City Planning Staff
Marka Fields 216 664-3465 mfields@clevelandohio.gov
Committee Members
Jeff Bogart, Chair
Thom Geist, Vice Chair
Jack Bialosky
Keith Brown
Krysta Pesarchick
Jayme Schwartzberg
Greg SJ Soltis
Tom Yablonsky
Tom Zarfoss