Walk & Bike Safely...Every Day!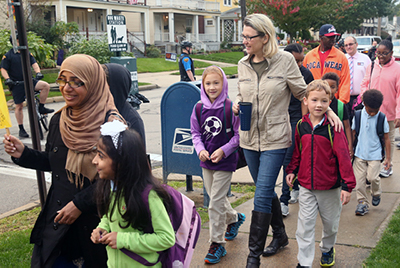 Walk and Bike to School Day Celebration Resources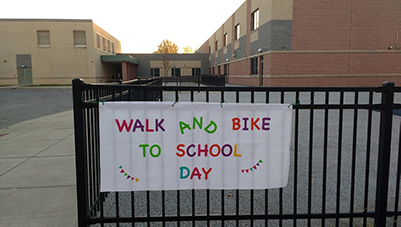 Railroad Safety for Walkers and Bikers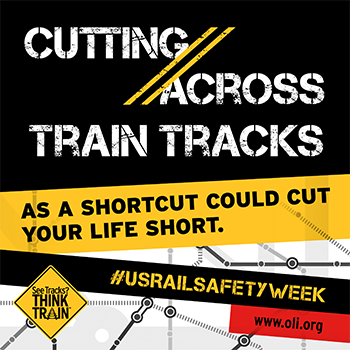 Operation Lifesaver, Inc. provides railroad safety information and resources for audiences of all ages, including lesson plans, videos, graphics, and safety tips. They can also connect you with a trained presenter to come to your school.
Do you have railroad tracks near your home or school? Be sure you follow these OLI Safety Tips:
Railroad property is private property. Walking on the tracks is illegal and dangerous, and trespassers are subject to arrest and fines.
The only safe place to cross is at a designated public crossing with flashing red lights or a gate. If you cross at any other place, you are trespassing and can be ticketed or fined.
Look and listen for a train as you approach all railroad crossings - obey all signs, warning lights and gates. Never walk around or behind lowered gates at a crossing, and DO NOT cross the tracks until the lights have stopped flashing and it's safe to do so.
Do not cross the tracks immediately after a train passes. A second train might be blocked by the first. Trains can come from either direction. Wait until you can see clearly around the first train in both directions.
Trains are quieter and faster than you think - never try to beat a train. It can take a mile or more to stop a train, so a locomotive engineer who suddenly sees someone on the tracks will likely be unable to stop in time.
Trains overhang the tracks by at least three feet in both directions; loose straps hanging from rail cars may extend even further. If you are standing next to the tracks, you can be hit by the train.
Do not attempt to hop aboard railroad equipment at any time. A slip of the foot can cost you a limb or your life.
Be aware trains do not follow set schedules. Any time is train time!