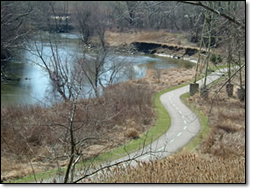 The Towpath Trail along the Cuyahoga River
just south of Harvard Road.
Since the 1980s, citizens, planners, conservationists, government officials, and a host of others have been discussing restoring the Ohio and Erie Canal Towpath Trail into a recreational and conservation area.
The Ohio and Erie Canal helped to cement Cleveland's status as a major city when it was completed in the 1830s. The canal and its towpath had fallen into a state of disrepair through disuse and neglect. In recent years, it has received increased attention and a great deal of work has been done restoring sections of the trail from the Cleveland Metroparks through the Cuyahoga Valley National Park, the City of Akron, and further south to New Philadelphia.
Proposed Towpath Trail Alignment Update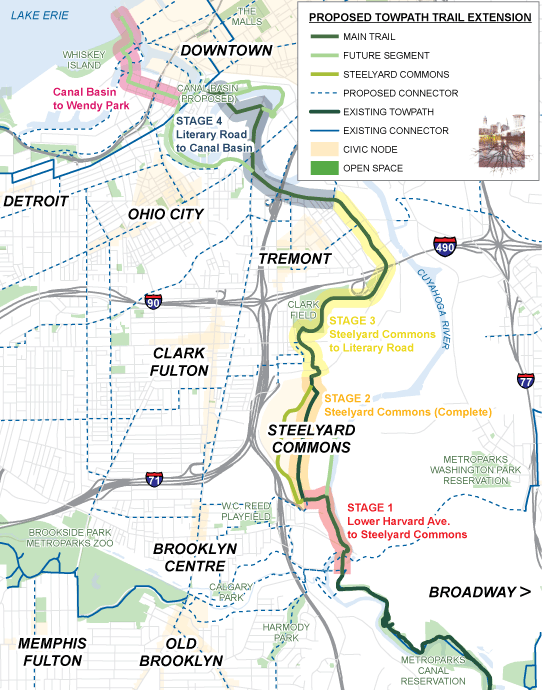 "The United States Congress has designated the Ohio and Erie Canalway as one of just 49 National Heritage Areas— designed to preserve and share important aspects of America's heritage.
The Ohio and Erie Canalway Association has partnered with public and private organizations to help build the Towpath Trail, a multi-use recreational and interpretive trail which will extend 101-miles from near the mouth of the Cuyahoga River in Downtown Cleveland to New Philadelphia, OH. Much of the trail has already been completed.
Planning is underway on the Cleveland section. This work has been divided into four stages, the second of which has already been completed. The other three stages are scheduled to be finished by 2020.
Links: