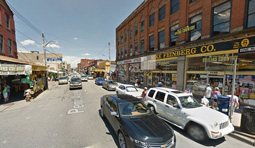 Penn Avenue - Pittsburgh, PA
Urban Industrial District.
E.79thTRANSIT ORIENTED CORRIDOR
E 79th Street is being studied to identify opportunities for improvement between Woodland and Carson Avenues. The study will focus on creating an environment that is safe and aesthetically pleasing for people, current and future, traveling along E 79th Street using multiple modes of transportation; walking, biking, auto and bus.
The two RTA transit stations along this corridor give this study special significance to improve the pedestrian experience. A number of planning studies, redevelopments and infrastructure improvements have been completed around this area including:
Community Apartments redevelopment
NEORSD's green infrastructure
Woodland Ave. resurfacing
CMHA's Heritage View Homes
E 79th Street bridge replacement
Single family home development – Minnie/Colfax
Hillside Park study and improvements
Kinsman Road Traffic Calming Study
BBC's residential development plan

Improvements called out in City Planning's E 79th Street Transit Oriented Corridor Study will be catalytic to influence future development. The residential housing strengthened between Colfax Road and the Blue Line station fits into a Transit Oriented Development model. Opportunity for neighborhood scale retail development or office spaces are fitting for E 79th between the two RTA stations. The smaller scale buildings will build a contextual relationship between residential neighborhoods and light manufacturing fabric.

Midtown Mixed Use - Detroit, MI
Adaptive Re-use mixed with Infill buildings.
Key strategic next steps by the City of Cleveland and Partners:
Design Guidelines
Strategies for entrepreneurship and inclusive innovation
Form Based Zoning District Target Zone
Marketing sites to local and national interest
Identification of potential business types
Demographic and Health Analysis
Strategic Site Assembly/cleanup